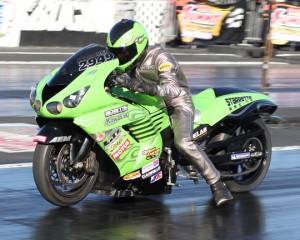 "2010 was a remarkable year," said Adams Performance crew chief Garron Miller, and he wasn't just talking trash. With another Real Street championship, wins and records on the revolutionary Adams Performance/Roger Starrette built and tuned Pro Street Kawasaki ZX14, Supersport wins and records, and the stirring wins of the Leonidas grudge bike, Adams Performance showed that they're at the top of the streetbike drag racing game
"Taking a brand new bike and being so dominant throughout the year was incredible," Miller said about the lime green, nitrous huffing Pro Street '14 ridden by the amazing Jeremy Teasley. "It was the most impressive bike throughout the year in a class that had been dominated by Turbo bikes, and we damn near won the MIRock championship with it."
Winning the MIRock championship is exactly what the Adams Performance/RS Motorsports team did in HTP Real Street. The team consistently set and topped their own records and more often than not had both bikes in the final round, with Starrette fielding a nearly endless stable of ZX14s for Teasley, Mark Billiter, and team boss Coby Adams. "Honestly, it is so dominant to find a team competing against themselves in the finals race after race," continued Miller. "And it never gets old, we can't get enough of it. Without the support of great sponsors and the commitment of Roger it would have been a tough year, and we can't thank them enough."
The team also ran the ZX14 Supersport bike whenever that class was available and in the MIRock Crazy 8 index class when it wasn't. "Jeremy had the Supersport bike on kill all year, and smashed the records and came away with another dominant win at the Manufacturer's Cup. He was also right there in the Crazy 8s championship right up to the very end."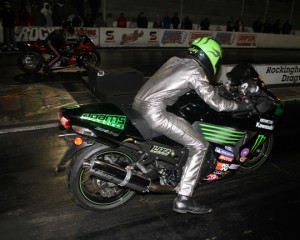 Adams Performance jumped back into the grudge game with big time horsepower on the Leonidas bike. Teasley's battles on board the Leonidas against legendary Johnny "Airtime" Locklear on The Ho have reinvigorated grudge racing and spawned a whole posse of YouTube clips. "The videos and wins speak for themselves, and Leonidas will continue to shock the world in 2011," said Miller.
But Adams Performance pushes the envelope in many forms of racing, currently working with AMA Motorcycle Hall of Fame inductee and Supercross champion "Jammin' Jimmy Weinert with his motocross efforts. "Our will to be the best at everything we do fuels our need to get every bit of horsepower out of these 4 strokes," Miller about the motocross program. "And by the looks of the superstars flying around the track at Jimmy's MX Training Facility in Dilon, South Carolina, Weinert and Adams are a winning combination.
"We also keep leading the mini sprint industry with power and new products designed for the winners circle. Our dyno stays smokin' with mini sprints shredding rubber and burning alcohol to find power and longevity.
"We would like to thank our sponsors again for a great 2010 and we're sure to add more wins and records in 2011 partnered with the finest suppliers in the performance industry. But there's an opportunity for others to come aboard one of the most dominant teams ever. We have the healthiest motorcycle drag racing squad on the planet, with championships, wins and records, and sponsor opportunities for motocross and mini sprints too."