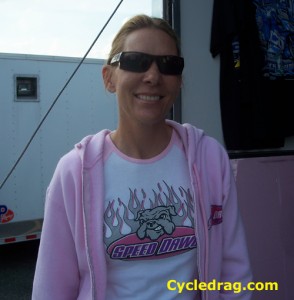 Heading into the illustrious NHRA Mac Tool U.S. Nationals from Indianapolis, Ind. on Labor Day weekend, Geico-backed Pro Stock Motorcycle racer Karen Stoffer knew exactly what had to be done for her season title quest to continue.  In order to qualify for the elite 10-rider Championship Countdown, No. 10 Stoffer would have to stay ahead of No. 11 Hector Arana.
The battle to determine the final spot in the Countdown couldn't have been more straightforward as Stoffer was paired with Arana in the opening round of eliminations.
"The situation was a media dream. Did I sleep the night before? Actually I did. I just got my mind right and realized whatever was going to happen was going to happen," Stoffer said. "I knew I just needed to ride my bike like I know how and hit my shift points. The only good thing about running Hector in the first round is that we controlled our own destiny."
Stoffer was clearly the underdog in this match-up.  The Geico team had struggled in qualifying with an electrical problem and could only muster a 7.07, landing Stoffer in the No. 15 spot.  Arana on the other hand was fresh off one of his best qualifying performances of the year with a 6.95 to lock down the No. 2 spot.
"We were battling a few problems with our bike so we just barely squeaked into the field," Stoffer said. "My crew was up all night trying to figure out what was wrong.  They worked very hard.  Throughout the weekend we swapped out three motors.  It was very frustrating because we spent so much time getting the bike ready for this race. We thought we were the most prepared, then we ended up with a big electrical problem."
The hardworking team finished the bike at around four o'clock in the morning the day of eliminations.  Stoffer went on to praise the superhuman effort of her crew.
"My job is the same every time but the people behind me are the ones who have to stay up all night," Stoffer said. "I was so grateful and happy for our Geico family and our Mac Tools family. My team put so much effort in. They were up late every single night."
In the climatic opening round of eliminations Stoffer scored a valuable .037 to .061 holeshot that proved to be the difference. Stoffer was able to hold off Arana with a 7.019 to Arana's quicker 7.017.  It was Stoffer's 12th holeshot win and it couldn't have come at a better time.
"I almost fell off the bike I was so happy. Everything fell into place. I was going for a nice safe .20 or .30 and the bike came around. The team found the problem," Stoffer said. "It was a great race. Everyone asks me if it's extra special because I did it on a holeshot. The truth is I would have been just as happy no matter how we won it, as long as we won. I was very prepared to be on the other side of that coin."
Stoffer had nothing but praise for Arana who provided her tough competition all throughout the year.
"It was also a bittersweet victory because we are friends," Stoffer said. "Hector was a great sportsman and congratulated me at the far end.  After going through this we both made a promise to already be locked into the Countdown by the time Indy comes next year."
Stoffer was defeated in round No. 2,  but now looks forward to the inaugural Carolinas Nationals from Concord, NC. Based on the adjusted Countdown points Stoffer is just 110 points behind leader and defending champion Matt Smith.
"With having all of that pressure on me at Indy, I learned lesson about myself and how I need to focus," Stoffer said. "We are on an upward trend and if we can continue we have a great shot at moving up."
Stoffer went on to extend special thanks to all of the 2008 sponsors and supporters.
Geico Motorcycle Insurance 1-800-44-Cycle, Speed Dawg, Mac Tools, Bates Leathers, NGK, Airtech, Wrath Motorsports, Square One Graphics, Suzuki Extended Protection, and Kymco.