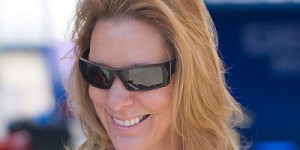 For most NHRA Pro Stock Motorcycle riders, this weekend's Mopar Mile-High NHRA Nationals at Bandimere Speedway starts the Western Swing.
But for GEICO Suzuki rider Karen Stoffer, the Western Swing could be called the "Home Swing." That's because Stoffer lives in Reno, Nev., and while she's still more than 1,000 miles away from Denver, heading to Thunder Mountain after being out east for so long is "Going in the right direction," Stoffer said.
"Denver's a great track," Stoffer said. "We've had our ups and downs there. It's getting closer to the West Coast, so we'll have a lot of West Coast people out there. It's going to be fun. It's always a great treat to go to Mile High Stadium."
Stoffer often has lots of fans around her GEICO hauler and at the GEICO display when she signs autographs, but the lines may be a little deeper this weekend in Denver.
"Our support grows substantially," Stoffer said. "We're a Division 7 team. Both (husband/crew chief) Gary and I run for Division 7 in NHRA, and we've got a lot of friends and family out that way, so as we get closer to Denver and Sonoma and those areas, we tend to have a bigger crowd for us. We love it, we love the crowds."
Denver will be a key race for Stoffer as she and the GEICO team look to get back to their consistent, solid performances from earlier in the season. Stoffer reached the finals three times and the semifinals once in the first four races to take the Pro Stock Motorcycle points lead. But mechanical gremlins have hampered her efforts in the last two events.
For Denver, the GEICO team is bringing a new engine for this weekend's race, though Stoffer would have had a new engine in her Suzuki anyway because of the mile-high altitude.
"Conditions in Denver can be hot and humid and sticky like it was in Chicago," Stoffer said. "Plus, you have the altitude that compounds the issues. That's one of the reasons why we run a different motor there. Either way, we're ready."