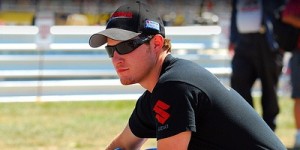 This weekend's Mopar Mile High Nationals in Morrison, Colorado represents the season for Forest Lake, Minnesota's Jim Underdahl.  "We started this season with high hopes, after ending with back to back semi-final finishes at Vegas and Pomona, and we planned to continue that success into 2011" stated Underdahl.  Unfortunately the first two races of the year ended with two first round defeats, and he and his Suzuki Extended Protection backed Pro Stock Motorcycle team sat at the bottom of the mountain. "I'm not going to lie; we struggled a lot with our tune up, and then made the switch to Vance & Hines fuel injection just before Norwalk."
The team has begun the climb, fresh off of a semi-final finish in Joliet, Illinois, and feels that they are grasping the new fuel injection setup.  "We are getting very comfortable with the software thanks to Matt Hines, and beginning to understand the changes in weather.  I feel like a Meteorologist now with all the calculations I have to do" stated Ben Kriegsfeld.  Since the change to fuel injection, the motorcycle is no longer mechanical and all fuel changes occur by a few keystrokes on the laptop.
The bike and transporter were able to go home to Minnesota since the race in Joliet for some much needed fixes to both. The rig is now headed west towards Colorado, and then off to Northern California the week after.  This is the beginning of NHRA's Western Swing, where the bikes compete back to back in Denver and Sonoma.  "I really like racing in Denver, it's an outstanding facility.  It's the slowest track because of the altitude, and a little tricky on the tune up, but we always have a blast here," said Underdahl.  Because of the high elevation, the normally aspirated engines have a harder time making horsepower, so the teams have to change their gear ratios to compensate.  Additionally, the riders need to wait longer before hitting their shift button because everything is slower.
25 year old Jim Underdahl is currently tied for 7th in points in the Countdown to the Championship with 4 races to go.  Underdahl has his eye on that top 10 finish this year by making it into the Countdown.  By racing atop a mountain this weekend, Underdahl and team hope they will continue to climb that mountain and hoist a Wally at the end of the weekend.