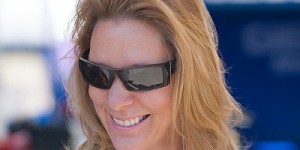 Karen Stoffer and her GEICO Suzuki race team are going retro in 2011.
With the start of the NHRA Full Throttle Series season just days away for the Pro Stock Motorcycle class at this weekend's 42nd annual Tire Kingdom NHRA Gatornationals, Stoffer and her crew are getting into that racing mindset.
"It's always fun and exciting to start a new season – fresh starts, if you will," Stoffer said. "This year though is going to be about going back."
Stoffer is coming off a 2010 season where she finished eighth in the Full Throttle championship standings, set a national record for elapsed time, and recorded a runner-up. However, Stoffer said she and her GEICO teammates are going back even farther to draw inspiration for this season.
"We have no new plans, no new paint, and no new crew members," Stoffer said. "The idea is to 'do it the old way' like we did about four years ago. We just want to get back to the basics and back to what we did in the past when we had the most success.
"Short of going back to the original blue-and-white GEICO bike — we are making a concerted effort to strive for the 'good old days.' "
Stoffer said she is full of confidence heading into Gainesville because her husband and crew chief, Gary, has had a full year to work with the updated Suzuki powerplant. The same bike was a rocket at Gainesville a year ago when she went quick enough to set the world record.
"Conditions should be as great as ever at Gainesville," Stoffer said. "The bike should produce a lot of power. The challenge is to rein it in and keep it straight. If we can get that done I think our chances to turn four win lights on during Sunday's eliminations are very good."