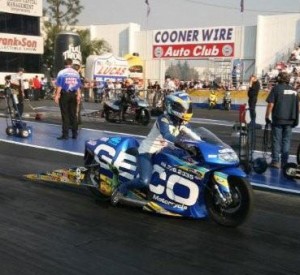 In what proved to be a season marked by unprecedented competitiveness in the NHRA Pro Stock Motorcycle category, Karen Stoffer and her GEICO Suzuki team battled its way to a fifth straight top-ten finish.
"To end up with a single digit on our bike for the fifth straight season is a great accomplishment for the entire GEICO family," Stoffer said. "Our team has come such a very long way and we have learned a lot.  I'm really proud of them."
Stoffer enjoyed an auspicious start to the 2008 season by posting a career-best elapsed-time of 6.91 en route to winning the AMA Dragbike Bike Week Nationals in Valdsota, Ga.
"We got off to a great start," Stoffer said.  "We had a new fuel injection set-up for 2008 and I was really pleased with how quickly we were able to learn it."
Stoffer achieved another career milestone in late-July when she amassed her first NHRA pole position with a 6.96 at the Fram Autolite Nationals in Sonoma, Calif.
"It meant a lot to qualify No. 1 and repeat our 6.90-performance from earlier in the season," Stoffer said. "As a team it proved to us that we have a very fast motorcycle that is capable of winning."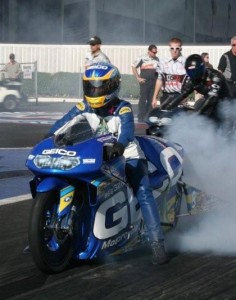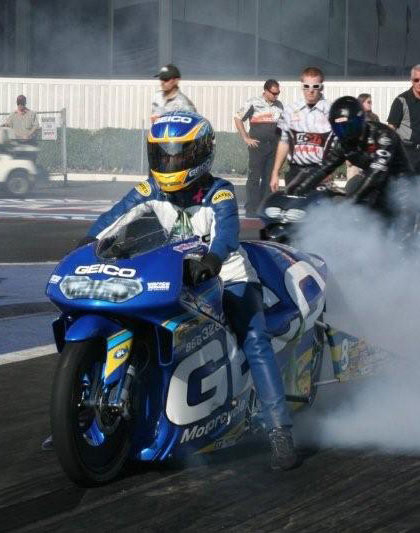 Shortly thereafter Stoffer briefly fell outside of the top-ten after a few difficult races. She quickly regained the No. 10 spot after a semifinal finish in Reading, Pa.  The team would then remain inside of the top-ten for the remainder of the season.
Including at the illustrious U.S. Nationals on Labor Day weekend, the final race to determine the ten riders who would qualify for NHRA's Championship Countdown. The battle to resolve the final spot in the Countdown couldn't have been more straightforward as Stoffer was paired with a quickly encroaching No. 11-ranked Hector Arana in the opening round of eliminations.
In this climatic race Stoffer came through in the clutch with her 12th career hole-shot victory.  Stoffer used an .037 to .061 starting line advantage to hold off Arana with a 7.019 to Arana's quicker 7.017.
"I almost fell off the bike I was so happy. Everything fell into place. I was going for a nice safe .20 or .30 and the bike came around. The team found the problem," Stoffer said. "It was a great race. Everyone asks me if it's extra special because I did it on a hole-shot. The truth is I would have been just as happy no matter how we won it, as long as we won. I was very prepared to be on the other side of that coin."
Stoffer finished the season with a No. 5 qualifying effort and a first round victory to vault her to the No. 9 spot in the series. Team owner Doug Johnson felt the team made great improvements throughout the season despite some tough luck on Sunday.
"The overall performance in ET and speed was by far our best ever but our race day performance was not up to par," Johnson said. "Qualifying No. 1 in Sonoma was one of the highlights of our season, making the countdown was the other."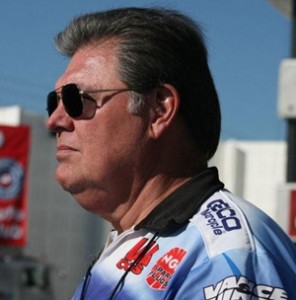 Johnson says the off-season will be a busy one.
"We are putting the finishing touches on a new bike for next year," Johnson said. "Team GEICO will have a few changes next year that should put us in the championship hunt."
Stoffer shares Johnson's optimism for the 2009 season.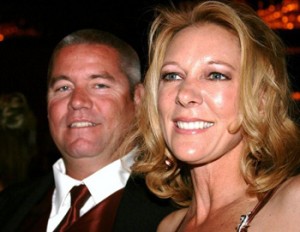 "I'm going to enjoy some time off to clear my head and then we are going to get right back to work," Stoffer said.  "Monday test sessions were hard to come by last season because a lot of the Top Fuel teams were not testing due to the nitro shortage.  I'm looking forward to doing a lot more testing in 2009."
Stoffer will begin the 2009 season at the AC Delco Gatornationals from Gainesville, Fla., March 12-15.
Stoffer went on to extend special thanks to all of the 2008 sponsors and supporters.
Geico Motorcycle Insurance 1-800-44-Cycle, Speed Dawg, Bates Leathers, NGK, Airtech, Wrath Motorsports, Square One Graphics, Suzuki Extended Protection, and Kymco.