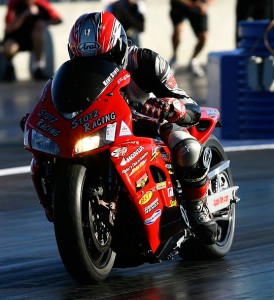 The Stotz Racing-Honda Drag Race team finished off the season with an amazing ProStreet win on the little cbr1000rr. The win was just a matter of time considering the Honda's record setting ways since the U S Nationals. The most amazing part was that Cycle World editor Nick Ienatsch (a road racer) road the bike into the record books with the win. Stotz Racing rider Frankie Stotz said, "Nick and the cbr1000rr performed flawlessly this weekend and we are excited and expect more of the same next year when I get a shot at the title".
Kent Stotz decided mid season to pull his son Frankie from the Super Street class and put him on the ProStreet RR to get him ready for a 2009 ProStreet championship. With Frankie setting the 1/8mile record and winning 2 regional events, Frankie and the cbr1000rr are more than ready for 2009 ProStreet.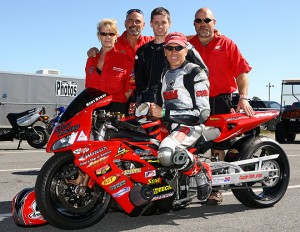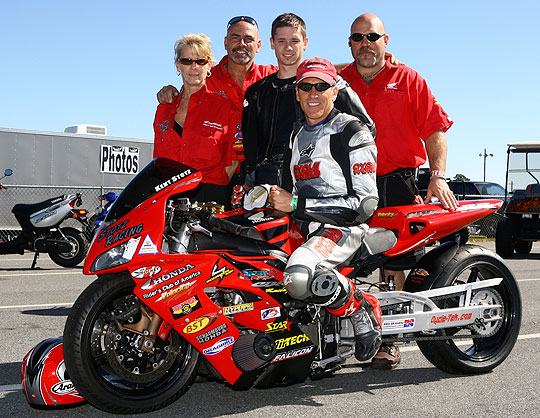 Kent called Cycle World and asked if they would be interested in doing an article on what these DOT legal, 500+ horsepower street bikes are like to ride. Nick Ienatsch was the obvious choice as he had done the Cycle World UFO articles and rode the Honda cbr1100xx (Blackbird) for a similar article in 2005. Nick was very excited, as he had been overwhelmed and unprepared for the explosive and sudden death structure of AMA/Pro drag racing in his 2005 experience. That did not happen this weekend.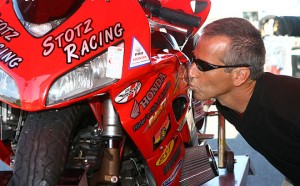 After qualifying 4th, Nick's stellar reaction times to the drag race specific Christmas Tree start, and a 7.28 ET got him the win in the semi-final over #1 qualifier and 3 time champion Mike Slowe. Another .007 reaction time in the final showed that Nick and the Stotz Racing cbr1000rr were here to win. After the winners circle photos Nick is quoted as saying, "I think of Kent Stotz as the Honda dragracing equivalent of Miguel DuHammel and Al Ludington, all rolled into one person. He's tuned and ridden Hondas to four ProStreet national championships and people have referred to him as the Godfather of ProStreet. He's the perfect guy to have in your corner".
About Stotz Racing
Stotz Racing earned AMA Street Bike Shootout Championships in 1995, 1998, 2001 and 2002. In 2004, Stotz Racing's turbocharged Honda CBR1100XX became the first Street Bike to set the 200 mph record (7.25 seconds at 200.49 mph). Stotz Racing thanks those sponsors that make the record setting parts and services. Sponsored by the Honda Rider's Club of America, Pro Honda Oils and Chemicals, Scorpion EXO Helmets, Joe Rocket, BST Wheels, Falicon Crankshaft Components, Velocity Racing, Star Racing, JE Pistons, Air-Tech Streamlining, Schaumburg Honda, HyperPro Suspension, and Win Racing. Stotz Racing also set records in the Import V-Twin Horsepower Challenge on a Turbocharged Honda VTX1800