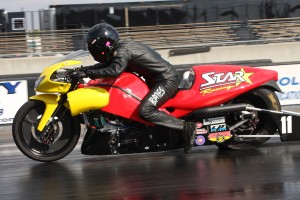 When George and Jackie Bryce of Star Racing called Michael Ray in late September  2010 and asked if  the AHDRA standout would  like to come do some testing,  Michael had to make sure that it wasn't a prank call.  After all the smoke cleared and George stopped laughing, they loaded up and headed south to Curacao to do some testing for a team that George's company Star Racing currently supplies engines for.
"I have been working on George and the rest of the Star Racing team for years to just give me a shot on one of their bikes and finally it seemed that one shot was happening for me," Ray said.
After some good driving and some great fun in Curacao it was time to come home and discuss future plans of competing in select NHRA events for 2011. With no solid funding, a rigorous land speed racing schedule, managing the parts department at Gruene H-D, and wedding plans for October this year; GOTTSPEED Racing and Michael Ray felt optimistic that they could put this together. With the help of GOTTSPEED Racing, Dennis Gibson, Ed Harris of JET AIRCRAFT INTERIOR SERVICES (WWW.JETACFT.COM), Billy Shoemaker, and of course Michael's parents this dream can become a reality.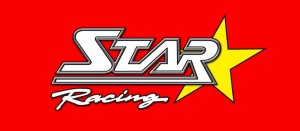 "George and I spoke daily, from Thanksgiving until we pulled into the track at SGMP, about making this dream become a reality. I knew that if I could get some funding help that I would have the support from my awesome team at Gruene Harley Davidson to make all his happen and that is just what we did."
During an event at the Texas Mile in April of 2009 the GOTTSPEED Racing team fell in love with this "all out" form of racing. The team since then has built a turbo bagger that set a record at Bonneville during the SCTA trials in August and has run speeds well over the world's fastest bagger mark at the Texas Mile with speeds over 185mph. The team is excited about the upcoming land speed racing schedule, but before the turbo monster can be fed the team has one goal in mind: qualify at the Gator Nationals and go one round at a time on Sunday.
Last week Michael and GOTTSPEED Racing team owner Rugger Gottsacker headed to SGMP to do some preseason testing.  The numbers that these two teams posted were to be expected considering the amount of success that both parties brought to the table.
"All in all the testing was a huge success. I made some of my career quickest elapsed times and had tons of fun. I've had this dream since I was a youngster watching John Myers and Star Racing win everything there is to win in motorcycle drag racing. I have to thank all my sponsors who came on board to help me achieve this dream"