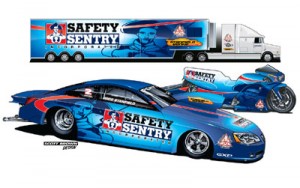 Team Safety Sentry Motorsports has teamed up with 2010 NHRA Full Throttle Pro Stock runner-up Greg Stanfield to contest the series in 2011. Team Safety Sentry also will attack the 2011 Pro Stock Motorcycle competition with the addition of rider Angie Smith. Safety Sentry Inc. produces the Safety Sentry Hitch Lock, which helps safeguard trailers against detachment, theft, and accidents.
Stanfield is coming off of an incredible year in which he was the top-ranked driver based on lowest average qualifying position and best winning percentage. Stanfield was second overall in leaving the line first and won 12 of 14 races that were decided by holeshots. The four-time Super Stock champion is looking forward to the 2011 Pro Stock season and is excited to have Team Safety Sentry Motorsports as his sponsor.
"I feel that the Safety Sentry device is incredible," he said. "I personally want to increase its brand awareness. I wasn't educated on this product and didn't even know something like this existed. The safety features first attracted me, but seeing the protection aspect of the device makes it such an incredible tool that everyone needs that tows, and everybody in this industry tows."
Stanfield said that his goals for 2011 are simple: "Start small, qualify, and be there on race day. As a team, be as prepared as possible. We have great people onboard with this team to reach every goal that we set. Bob [Yonke] is such an incredible asset to our team. He brings great marketing ability to the table. In today's economy, Bob still capitalizes all assets to make the team successful. He is the stabilizer of the team and allows us to focus on the task at hand."
J.D. Coffman, owner of Coffman Tank Trucks, brought Pro Stock Motorcycle rider Smith into the Team Safety Sentry Motorsports fold. The team will begin its season at the Tire Kingdom NHRA Gatornationals in Gainesville March 10-13.
"Bob and I met in Sonoma in 2010 and have built a great relationship that has brought us to this point," said Coffman. "I feel awesome having Safety Sentry as our title sponsor. They have such a great device, and I am excited to have the chance to market their products. I feel just blessed to be part of this team."
Safety Sentry Inc. inventor and owner Karl Pratt said that he's excited about the 2011 racing prospects.
"We are very proud to be part of such a winning team," he said. "This partnership allows us the greatest opportunity for product visibility and relates our message of personal safety and protection while towing. The fans that we will be able to touch are so loyal to the sport, and we want to keep them protected and coming back for years to come as part of our team."
Safety Sentry Inc. manufactures safety trailer-hitch lock systems designed to prevent trailer detachment in any form, whether by theft or accident while driving. Safety trailer-hitch locks are required in some states due to state-mandated trailer-hitch laws. Safety Sentry Hitch Locks will be available for purchase at all 2011 NHRA Full Throttle Drag Racing Series events.