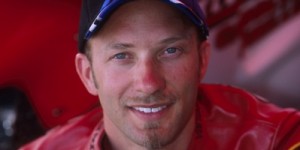 Matt Smith and his Al-Anabi Racing Buell haven't had the 2011 Full Throttle season they wanted until they rolled into Englishtown, New Jersey this past weekend.
"We have had a rough year so far," said Matt Smith. "We broke a motor during qualifying this weekend too, so we have had our work cut out for us. Between bad luck and just getting our butts kicked, we had a lot of stepping up to do. We have been working hard and am glad to finally see it pay off."
Qualifying in the number nine spot headed into eliminations, Smith would have to face his wife, Angie Smith for the fifth time, second time of the season. His wife would run the third quickest time of the round, but with Matt running the quickest time of the round, he would head to round number two.
Smith would then have to face off against the number one qualifier of Eddie Kraweic second round. Smith would not only leave on the Harley, but outrun him as well, which would set him up against the other Harley rider, the multi-time champion Andrew Hines.
Smith would once again show his dominance and beat Hines on both ends of the track. Putting Smith in his first final of the year.
In the finals Smith would have to run the points leader, Karen Stoffer. Knowing he needed every inch, Smith would give it all he had. Running a 6.900 et to Stoffer's 6.889 et, Smith would get the holeshot win by one inch, possibly the closest run in NHRA history.
"I am so excited right now. This is just amazing. We had a great bike all day. I just knew I had to do my job on the tree. I can't believe how close it was. Once I saw the win light I just wanted to jump off my bike and celebrate."
"I gotta thank KH, this Al-Anabi Racing Buell is great. Affliction, Red Line Oil, PJ1s and Coffman Tank Trucks, just gotta thank them all. Today is my grandma Dot's 80th birthday, so HAPPY BIRTHDAY DOT!"
Smith has had a lot of memories in Englishtown. From having the wind blow him in the wall aboard his bike to break his foot in 2003, to winning his first NHRA race there in 2006 and now his 13th win, which is his first of the 2011 season.
Smith moved up to fifth in the NHRA Full Throttle Championship point standings.
The NHRA Pro Stock Motorcycle field will run again in a few weeks in Norwalk, Ohio.