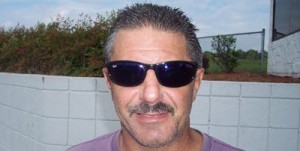 The Ohio Bikeweek Nationals Presented by The Northern Ohio Harley-Davidson Dealers event at Summit Racing Equipment Motorsports Park, in Norwalk, OH was not kind to the Bammer/Starlight Tattoo bike in the Screamin' Eagle Top Fuel Class.  Larry "Drums" Brancaccio was more than dissappointed when coming off a win in Numidia, PA, he failed to qualify in Norwalk.
Brancaccio said, "When we arrived, I had already gone through the motor at home and Jack Romine was tesing the computer when a blip popped up. Apparently we had trashed the transmission on the last 2 passes at Numidia.  So it's 11 pm on Friday night and I'm stressing." And for those of us who know Drums, this is NOT a good thing.
"The next morning we drove 30 miles to find a transmission shop that was not open yet so I went around back and about scared the owner to death by going in the back door. But after he got over the shock, he said he might have some parts for us we could salvage, but did not have time to do any machining.  After going through all the  boxes we found 6 FMX trans clutches from an early 1970's Ford transmissions,bought them all and took them back to the track, where we had already missed the first round of qualifying."
" It was a group effort including not only our team, but the Romines of Sturgis, MI, Chris Streeter's Pro Fuel Team of OH.  We ground down the centers, smoothed out and fit them to the hub and they worked, of course.  Ready for round 2 of qualifying with minutes to spare, the bike had too  much power and spun the tire, the air was terrible," moaned Brancaccio after the race, "the track's at 810 feet altitude and the nitro adjusted air was over 3,700 feet, it's a technical thing but it's NOT good for tuning."
"For the last chance qualifying, we de tuned the bike, I had a great launch with a .113 rt and was looking great for the first 60 feet, then, we dropped a hole (lost power to a cylinder), there was NOTHING I could do, but coast to the end of the track. I was so disappointed but we ran a test pass in the Nitro Outlaw class on Sunday  The tranny's out of the bike and on it's way to Lenco and we'll be ready for Atco."
Brancaccio is proudly sponsored by: Starlight Tattoo, Capone Landscaping, Keith's Custom Seats, World Wide Bearings, Vanson Leathers, Central Metal Fabricators & special thanks to: Barnett Clutches & AutoLite.
Check your calendar and see Drums and the Bammer/Starlight Tattoo Nitro Harley at:
June  25-26  Northeast Nitro Nationals at  Atco Raceway,  Atco, NJ