Let the turbo vs. nitrous war rage on.  All of the MIROCK Summer Showdown, June 11-12 from Maryland International Raceway, pro final round match-ups showcased drag racing's long-standing turbo vs. nitrous rivalry.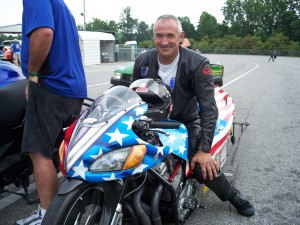 Final round results/notes
Mickey Thompson Pro Mod
No. 4 qualifier Terry Schweigert (Nitrous Suzuki).046, 4.164 at 169 mph def. No. 6 qualifier Mark Paquette (Turbo Kawasaki) .078, 6.373 at 80 mph.
Heading into the final Paquette had the bike to beat, gaining lane choice in the semis with a 4.15 win over Dave Norris, trumping Schweigert's 4.18 semifinal victory over top-qualifier and point leader Ronnie Procopio.
In the final Paquette encountered mechanical problems while Scweigert ran his quickest pass of the weekend.  On Sunday, Schweigert struggled to break in a new tire, but crew chief Dan Wagner was able to remedy the problem in the final.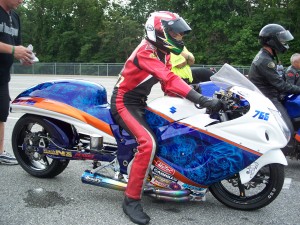 Orient Express Pro Street
No. 1 qualifier Ryan Schnitz (Nitrous Suzuki) .104, 7.512 at 168 mph def.  No. 2 qualifier Rodney Williford (Turbo Suzuki) .263, 10.456 at 82.21 mph.
Williford wheelied hard around the 330′ mark and Schnitz let out a few nitrous pops around 1,000 feet, impeding the progress of both competitors.
Despite challenging conditions, including a hot, slippery racing surface and 2,700 feet of corrected altitude, Schnitz stunned MIROCK fans with the quickest Pro Street pass of all time, 7.063, in the second session of qualifying.  Schnitz's 7.138 in opening qualifying was a mere .005 away from backing up the 7.063.  The official MIROCK record stands at 7.115 by Bud Yoder, set Oct. 4, 2009 at Maryland International Raceway.
Schnitz's 7.06 in less-than-favorable conditions sends a clear message; the first six-second Pro Street pass is a very real possibility in 2011.  Schnitz will have opportunities to accomplish the coveted feat at renowned quick events, The MIROCK Fall Nationals in October at MIR and in Novemeber at The Lee's Performance MIROCK World Finals in Rockingham, NC and The Manufacturers Cup in Valdosta, Ga.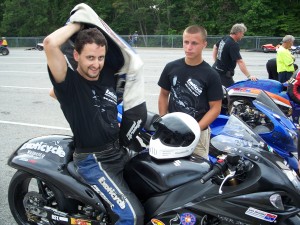 DME Real Street
No. 3 qualifier Johnny Dobrin (Turbo Suzuki) .121, 7.858 at 181 mph def. No. 1 qualifier Jeremy Teasley (Nitrous Kawasaki) .071, 7.980 at 183 mph.
Defending champion, record holder (7.79) and point leader Jeremy Teasley had the holeshot and the lead until he dropped a cylinder at the 330′ mark. Dobrin muscled out his best run of the weekend to gain the upset victory.
It was the first time Teasley lost a Real Street final at MIR since falling victim to Chip Ellis last July at the WPGC Bikefest.
The MIROCK Series resumes July 23-24 for the WPGC Bikefest at MIR.