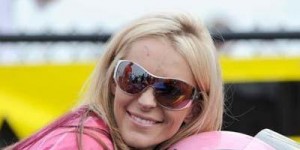 Angie Smith heads into the 24th annual O'Reilly Auto Parts NHRA Spring Nationals in Houston, Texas this week top-10 in points, and hopes to keep it that way.
Smith, who is only in her second full year of racing in the NHRA Full Throttle Pro Stock Motorcycle class, hopes to take her Coffman Tank Trucks Buell to the next level this year, starting this weekend in Texas.
"I am so excited to get back to the track to race," said Smith. "I feel like the Pro Stock Motorcycles have had forever off. We are pumped to be down in Houston near our sponsor's headquarters, Coffman Tank Trucks. We hope to put on a good show for them this weekend."
Smith and her husband, Matt, not only faced each other at the 2011 season opener in Gainesville earlier this year. But the two tangoed in Houston last year first round as well. Smith is hoping to change those stats.
"We hate racing each other first round on Sunday. It is no fun for either of us. We have both worked real hard over the last few weeks trying to find horsepower to make sure that doesn't happen till maybe the finals next time."