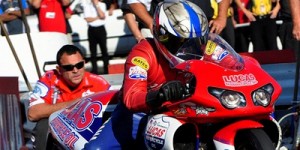 Hector Arana Jr. knew his rookie season in NHRA Pro Stock Motorcycle would be difficult. But he didn't expect it to be this hard.
Arana Jr. failed to qualify for the Pro Stock Motorcycle season-opener at the Tire Kingdom Gatornationals in Gainesville, Fla., in early March. He hopes for better fortune on his Lucas Oil Buell in this weekend's O'Reilly Auto Parts Spring Nationals at Royal Purple Raceway, his second career start.
"It has been harder than I expected it to be," Arana Jr. said. "When I rode (in lower classes), it was easier for me to focus, but I wasn't going near as fast as this bike. It's still taking time for me to get used to it. Each run I make, it seems slower to me, and that's a good thing."
After the Gatornationals, Arana and his father, past Pro Stock Motorcycle champion Hector Arana Sr., took apart Hector Jr.'s Buell to make sure the bike was performing properly. Then, under the supervision of his father, Hector Jr. tested at Lucas Oil Raceway in Indianapolis.
"We went through the bike and got it all figured out," Arana Jr. said. "We went testing for two days and made lots of laps. I ran a 6.91, my career best. And then I also ran a .95 and a .97. Getting seat time has helped me to slow things down each pass, to be able to focus when I'm going down the track, and concentrate better."
Arana Jr. can feel himself getting better, noting the 6.91-second run seemed slower.
"After I made that pass, I was like, 'Man, that was a slow pass,'" Arana Jr. said. "I thought it was a 7-second pass. Everything was so smooth. They came back and told me it was 6.91. It just goes to show that I'm starting to get used to the bike."
Arana Jr.'s first priority in Houston is to qualify, and then he hopes to improve as he makes more passes.
"We went testing and seemed to fix the problem with the bike," Arana Jr. said. "Our goal is to go out there, focus, and make good passes and qualify. Then we'll go from there."