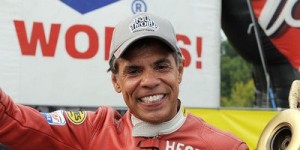 Hector Arana Sr. didn't use the five weeks since the NHRA Pro Stock Motorcycle season-opener to work on his own Lucas Oil Buell or his own riding.
No, Arana Sr. has been a good father, spending all of his time worrying about his son, Hector Jr., a rookie in the fastest two-wheeled motorsport on earth.
A past world champion, Arana Sr. will ride his Lucas Oil Buell in this weekend's 24th annual O'Reilly Auto Parts Spring Nationals at Royal Purple Raceway, and he'll do his usual solid job. But the veteran rider admits he'll have other things on his mind than himself.
"My bike, I'm putting it together right now," Arana Sr. said just two days before the event. "I really haven't done anything with my bike. Really, all my focus has been trying to get the new bike ready for my son and getting him some seat time so he can be comfortable riding his bike."
Arana Sr. isn't worried that his performance will suffer. After all, he was the No. 1 qualifier in the season-opening Tire Kingdom Gatornationals in Gainesville, Fla., and was a contender on race day.
But Hector Jr., right now, is simply more important.
"Once he does well and he's riding with more confidence, I'm going to be more relaxed, and then I can concentrate on my riding," Arana Sr. said. "But right now, all my focus is on him because he's my son and I want to make sure nothing goes wrong. In that aspect, all my attention, everything, is on this new bike and how he's riding."
Arana Sr. was pleased with a recent test with his son at Lucas Oil Raceway in Indianapolis. Arana Sr. didn't ride during that test, mentoring his son instead.
This weekend, in addition to keeping an eye on his son, Arana Sr. will have his eye on the weather. Temperatures are expected to be in the 80s or 90s all weekend, and riders will have to adjust to the changing conditions.
"It's not just what's happening in Houston, but what is heading that way, too, so we can plan accordingly," Arana Sr. said. "Then again, whatever the weather is going to be, it's going to be for everyone.
"We make our first run, and then we go from there. We try to make a good first hit where we play it safe, gather data, and make adjustments from there. That will be the gameplan in Houston."
That, and keeping an eye on his kid.