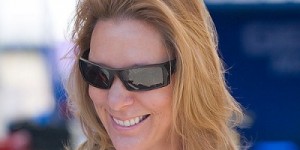 It's likely that no rider in the NHRA Pro Stock Motorcycle class wanted a five-week break between the season opener and this weekend's 24th annual O'Reilly Auto Parts NHRA Spring Nationals less than GEICO Suzuki rider Karen Stoffer.
The hugely popular pro reached the finals of the Tire Kingdom Gatornationals in Gainesville, Fla., coming in second to race winner Eddie Krawiec. Five weeks later, the red-hot rider finally returns to action at Royal Purple Raceway in the Houston suburb of Baytown.
"There were probably two people who didn't want a break, Eddie and myself," Stoffer said with a chuckle. "But, yeah, it was definitely different. It was kind of like a little mini-break when we really didn't need it, but now we're back to racing again, thank goodness."
Stoffer hopes to build off her Gainesville momentum in Houston, even though it seems forever since she gripped the throttle.
"There is definitely some value in momentum," Stoffer said. "For us, particularly our team, we've never had a real a strong suit of consistency, so momentum really doesn't play into it if you don't have some consistency. Hopefully, that changed this year. That's the goal. We're attacking it a little differently."
If Gainesville is any indication, it could be a banner year for Stoffer. She likes racing in Houston, as does her crew chief/husband Gary Stoffer.
"Gary is good at tuning cooler tracks, but he's been known to tune very, very well at Houston," Stoffer said. "Houston's always been good to us. As the heat increases and moisture increases in the air, it definitely becomes more of a tuner's race for our naturally-aspirated Suzukis, Buells, and Harleys.
"Gary likes the track, we like the track. I don't think it'll be a challenge for us. We're going to do our thing, and hopefully go down the track as many times as we possibly can on the weekend."