AHDRA Kresto Pro Drag competitor Will Simplot earned his first win of the new season at the Arizona Bikeweek Nationals, even though he was second to cross the finish line in the final.
After winning a pair of races in 2006 – Sturgis and Woodburn, Will Simplot garnered his first event victory of 2007 in Phoenix.  However, Simplot will remember this particular race as one of his most difficult victories yet.
"It was a really challenging weekend for us," Simplot said.  "We struggled with the bike. We kept dropping cylinders, the thing was running hot, and we were having electrical problems."
Simplot qualified in the No. 2 spot of the seven bike field with a run of 7.57 at 172 mph behind Gainesville runner-up Rick Moore, who took the pole with a 7.54 at 175 mph.
"We had the bike running pretty good by the end of the day on Saturday," Simplot said.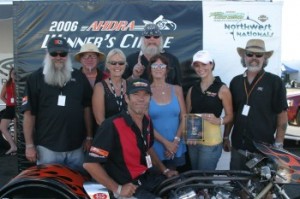 Simplot defeated Chris Kirby and Wink Eller to advance to the final to take on Moore.  Simplot collected the event victory in unusual fashion – by disqualification when Moore lost fire in the burnout box and had to restart his motorcycle in order to make the run, a violation of AHDRA rules.
"It was kind of an ugly win but I'll take it," Simplot said.  "I wanted to be a sportsman about it and wait for him.  The track crew had a mix up on the starting line and I forgot about the rule myself."
Both bikes launched off the line and, at the moment,  it appeared Moore had captured his first victory of the season with a 7.56 to Simplot's 7.77.
"When I got to the far end of the track I thought we had lost.  I was pretty dejected," Simplot said. "Then they gave us the news and we had to run around like a chicken with our head cut off to get to the winner's circle.  It was pretty exciting."