Hector Arana Jr.'s 20th final-round appearance in his powerful Lucas Oil Racing TV Buell lifted him from ninth to sixth in the Mello Yello championship points standings and made his 100th career NHRA start a memorable one Sunday at Old Bridge Township Raceway Park.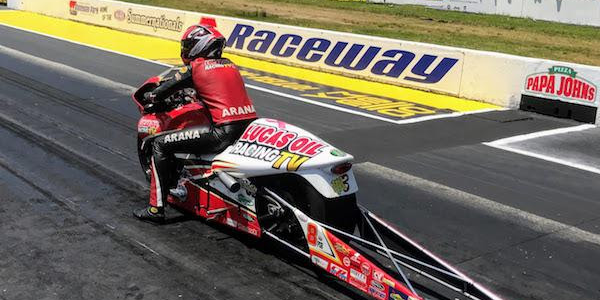 Arana's father, 2009 world champ Hector Arana, had a decent outing himself, qualifying No. 3 and reaching the quarterfinals before losing on a holeshot to Karen Stoffer.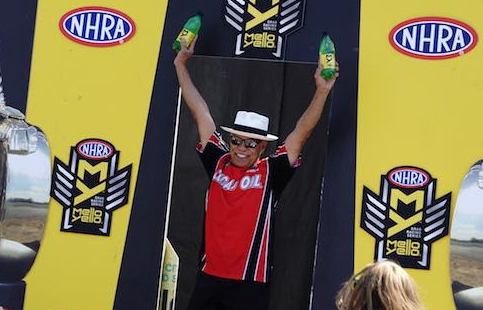 "There's only one guy happier than me at this point in the day so we'll leave here feeling pretty good about our program," Arana Jr. said. "We went four rounds, got a chance at the trophy and best of all both bikes were consistent all weekend. I'm really excited right now. I wish the next race started
tomorrow
."
Arana Jr. expertly dismissed Melissa Surber in the opening round with a 6.816 at 196.79 mph to Surber's 6.894 at 192.66 mph. He then knocked off three-time world champion and hometown favorite Eddie Krawiec with a 6.828 at 196.02 mph to Krawiec's 6.937 at 194.38 mph.
Avenging his father's loss to Stoffer was on tap in the semifinals and Arana Jr. was able to overcome a slower start and blow past the multi-event winner to take the stripe first with a 6.854 at 195.56 mph to Stoffer's 6.899 at 192.91 mph.
The trophy was well within Arana Jr.'s reach in the final but a regrettable .111-second reaction time when matched to reigning champ Jerry Savoie's .031-second launch was simply too much to overcome. At the other end, Arana took a huge holeshot loss, Savoie's 6.918 at 192.85 mph beating his 6.862 at 195.62 mph.
"Now that we are in a good rhythm and the bikes are more consistent, I can relax and be more focused on riding the bike and cutting better lights," Arana Jr. said. "I feel like we are going to have a very successful year. I am very happy with the Lucas Oil team and how everything is coming together.
"We definitely have a good set up for the hot weather and I think even when it cools down later in the year we will be even faster. We have a good handle on these bikes and know what they want now so we are ready to go."
The Pro Stock Motorcycle class takes a weekend off before returning to action
June 22-25
at the 11th annual Summit Racing Equipment NHRA Nationals in Norwalk, Ohio.
"We'll try to build more motors between now and Norwalk," Arana Jr. said. "We hurt one in testing so we were here without a back-up motor, which isn't the best-case scenario. So for sure we'll get some more motors together and go from there."