The Team Liberty Racing duo fell in the first round of eliminations but both gained major performance strides at both ends of the racetrack this weekend at the 48th annual NHRA Summernationals.
2016 Rookie of the Year Cory Reed qualified No. 13 and had a first round matchup against Jerry Savoie. True to form, Reed grabbed the early starting line advantage with three tenths of a second over Savoie. Reed was ahead of Savoie until his Victory Magnum experienced a transmission malfunction and he slowed to a 7.169-second pass at 182.65 mph; Savoie's 6.854, 194.35 advanced to the second round.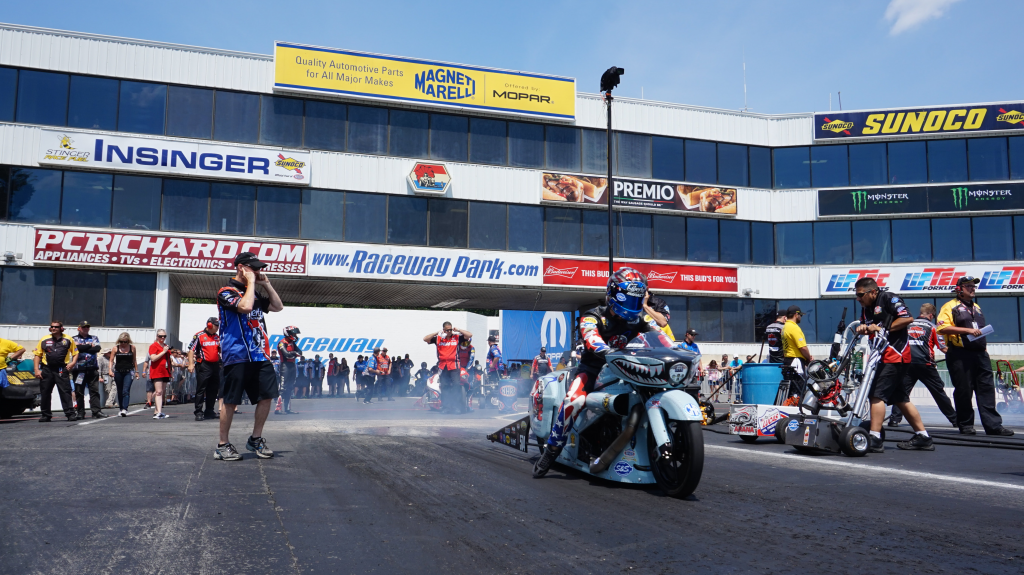 "The bike didn't shift into second, unfortunately, and I rolled out of it a little bit and hit the shift button another three times to get it to shift into second," Reed admitted. "I don't really know the full extent of what happened but at the top end, it wouldn't roll forward; it would only roll backwards. It was the strangest thing."
Three-time Pro Stock Motorcycle World Champion Angelle Sampey went into raceday in the No. 12 spot and staged up against Scotty Pollacheck. Sampey crossed the finish line at Old Bridge Township Raceway Park with her fastest pass of the weekend 6.858, 194.38 and was barely edged out by Pollacheck's 6.845, 194.30.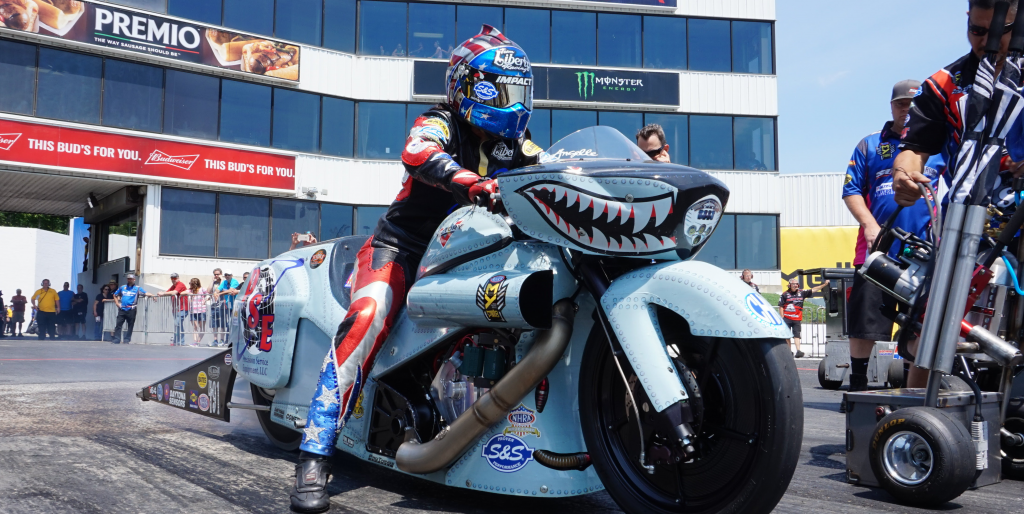 "I drove the motorcycle the best I possibly could," Sampey said. "I just needed a little better light. I'm just focusing on the fact that as a new team, we're doing so well. Both bikes are going to qualify unless we keep getting bit by some bad luck like I did on Friday night with my bike breaking. We are doing really well though so I don't worry about us not qualifying and performing; I know we can do it."
CORY REED, PSE/TEAM LIBERTY RACING VICTORY MAGNUM
Qualified: No. 13
ELIMINATIONS
First Round: Jerry Savoie (6.854-seconds, 194.35 mph) def. REED (7.169, 182.65)
QUALIFYING
Friday: 6.895, 190.51 (Session 1); 6.912, 191.62 (Session 2)
Saturday: 6.947, 189.55 (Session 3); 6.967, 189.82 (Session 4)
ANGELLE SAMPEY, PSE/TEAM LIBERTY RACING VICTORY MAGNUM
Qualified: No. 12
ELIMINATIONS
First Round: Scotty Pollacheck (6.845-seconds, 194.30 mph) def. SAMPEY (6.858, 194.38)
QUALIFYING
Friday: 7.137, 152.55 (Session 1); N/A (Session 2)
Saturday: 6.879, 192.33 (Session 3); 6.929, 189.82 (Session 4)