Precision Service Equipment/Star Racing Buell rider Cory Reed raced to his first final ever this afternoon at the 32nd annual Dodge Nationals. Reed defeated Melissa Surber, Hector Arana, and Andrew Hines on his way to the finals at Maple Grove Raceway.
Reed came into the first round in the No. 13 spot and lined up against fellow Rookie of the Year candidate Melissa Surber. Reed clocked in with a 6.866-second pass at 192.60 mph and advanced to the second round over Surber's 6.950, 189.66.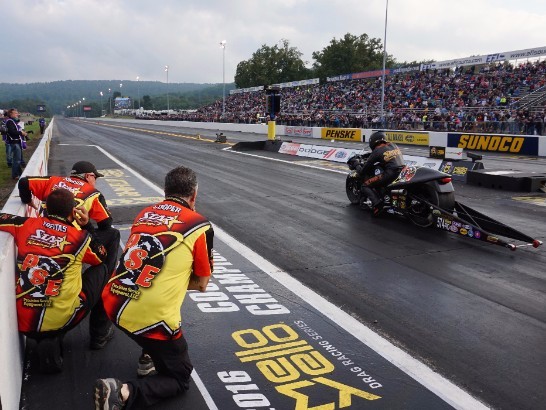 In the second round, Reed had a matchup against Hector Arana who came into this weekend's race above Reed in the points. At the hit, Reed had over .06-seconds over Arana and he was able to take the holeshot win when Reed ran a 6.913, 188.73 to Arana's 6.899, 195.25.
For the semifinals, Reed had another holeshot win over current points leader Andrew Hines. Reed had a .019-second reaction time compared to Hines' .083 and that was all Reed needed to take the win with a 6.909, 187.96 over Hines' 6.858, 194.24.
"I think the semifinals was the coolest round I've won in my rookie season," Reed said. "I knew I had to get the advantage on the tree against Andrew. When I saw my win light, that was probably the most excited I've ever been. I've raced Andrew a few times and never won; I've gone red by a few thousandths or my bike would have a malfunction against him. It was nice winning that round."
Reed and Eddie Krawiec faced off in the final round. Once again, Reed left first when the tree came down with a .015-second reaction and had over .01-seconds on Krawiec. Reed crossed the finish line with a 6.958, 186.43 but wasn't able to outrun Krawiec's 6.818, 193.88.
"I felt like I won just being in the finals," he added. "I'm very happy. I got beat in the finals and I pulled my helmet off with a huge smile on my face. I don't know if that happens very often."
With his runner-up finish, Reed jumped from No. 9 to No. 7 in the NHRA Pro Stock Motorcycle Championship points.
CORY REED, PSE/STAR RACING BUELL
Qualified: No. 13
ELIMINATIONS
First Round: REED (6.866-seconds, 192.60 mph) def. Melissa Surber (6.950, 189.66)
Second Round: REED (6.913, 188.73) def. Hector Arana (6.899, 195.25)
Semifinals: REED (6.909, 187.96) def. Andrew Hines (6.856, 194.24)
Finals: Eddie Krawiec (6.818, 193.88) def. REED (6.958, 186.43)
QUALIFYING
Saturday: 7.280, 146.40 (Session 1)