Lucas Oil rider Hector Arana Sr. improved to 4-1 this season against one of the top Pro Stock Motorcycle competitors in the NHRA Mello Yello Drag Racing Series.
Unfortunately, it's his son, Lucas Oil Racing TV rider Hector Arana Jr.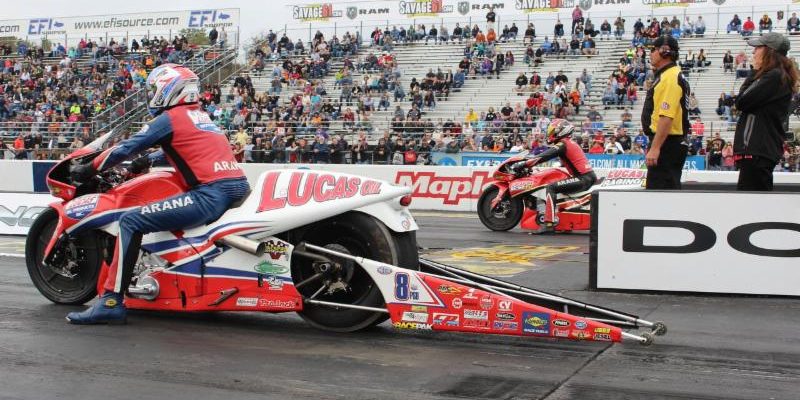 Father beat son in the opening round of the Dodge NHRA Nationals on Sunday at Maple Grove Raceway in the fifth first-round matchup between the Aranas in 2016, and if not for a broken oil-pump belt in the race in Charlotte, Arana Sr. could be 5-0 against his son.
"4-1: stinks for him, great for me, and the only win he has on me was due to a technicality, so it could have been 5-0, but we'll never know," Arana Sr. said. "Overall, it wasn't a bad weekend. Got to see my son, Adam. He came up from New York to support us and we at least went two rounds for him."
Adam Arana is a member of the United States Coast Guard, and he and his fiancée Jessica Outten drove to Maple Grove for the race. They watched father and son both drop the clutch too soon in the first round, but since Arana Jr.'s red-light came first, dad got the win. Officially, Arana Jr. went .056-second too soon, with Arana Sr. leaving. 045 early, but according to NHRA rules, the first red-light is the only one that counts.
"E1 was rough," Arana Jr. said. "Had to race my dad again, which was a bummer because we both want to progress forward in the points, and there are only three races left to do so. Each round really counts, so it sucks to have to race him. On the plus side, where it could have been a double negative and us both going out, at least one person got to proceed forward and gain some points."
Arana Sr. did move around his son into eighth in the standings at the halfway point of the six-race Countdown to the Championship.
Arana Sr. lost in the second round to eventual finalist Cory Reed, as Reed used a holeshot to get the victory. Arana made a pass of 6.899 seconds at 195.25 mph, but Reed's .028 light and run of 6.913 seconds at 188.73 mph was enough for him to move to the semifinals.
"The performance is there," Arana Sr. said. "We improved on the second round and we are going to look over the data and get ready for the next race. We'll have a weekend off to go to the shop and try to find some more power because those Harleys are really hauling the mail. We need to start to gain some ground on them and start to step up our level of performance."