The dark cloud that has followed the Victory Motorcycles team of Matt and Angie Smith this season wasn't swept aside by all the clouds over Maple Grove Raceway this weekend at the Dodge NHRA Nationals.
Husband defeated wife in the first round in a matchup of the Nos. 6 and 11 qualifiers, but Matt's Gunner stumbled in the second round with a transmission issue. That's at least the fifth time this season that a mechanical issue out of Smith's hands has knocked him out.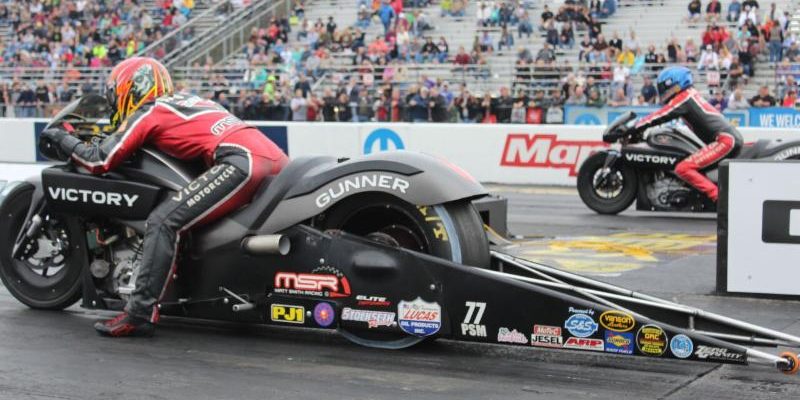 "Just no luck at all this year," Smith said. "We keep expecting it to turn around, but …"
In the first round, Matt and Angie left with nearly identical reaction times (.057-second for Matt and .058 for Angie), but Matt's Gunner was a tick better. His pass of 6.876 seconds at 193.88 mph beat her 6.944-second run at 189.71 mph. Matt's run, however, could have been better.
"The first pass today we were on a really good pass," Matt said. "We went 1.04 at 60 feet, and I put it in third gear and the bike just jumped off the ground like we hit water out on the track. It just spun through third up and down, just pogoing, and I put it in fourth and it calmed down a little bit in the beginning and it cleared up and went on down the track.
"Hindsight being 20/20, we should have probably pulled the transmission because we probably did something to third gear because we go up there (in round two) and go better than 1.04 and it just wouldn't come out of second gear."
Smith had a .025-second light against second-round opponent L.E. Tonglet, but as Smith slowed to a 10.345-second pass at 80.13 mph after not being able to change gears, Tonglet sped to the win with a 6.838-second run at 195.48 mph.
Angie was working with a new tune-up for Reading after the team discovered an issue with her bike, and she needed all four qualifying runs to adjust her Victory, but rain washed out three of the four sessions.
"I'm getting there," Angie said. "I know how to do my job, I know how to leave on time, and I know how to shift my bike. I just need the bike to perform better, and I think if we can get it all together we will be good. We've been good before. We were good in 2014 and this has just been plaguing us for a year and a half. Like I said, I know how to do my job; we just need to get the bike to do its job and we'll be all right.
"We don't have time to go test, so I guess we will go test in qualifying at Dallas."