Harley-Davidson® Screamin' Eagle®/Vance & Hines rider Ed Krawiec charges within 38 points of championship contention with a big Pro Stock Motorcycle win at the Dodge NHRA Nationals at Maple Grove Raceway. Krawiec powered through the field on a Harley-Davidson® V-Rod® motorcycle, racing from the second qualifying position after rain washed out all but one qualifying session on Friday and Saturday. The win moves Krawiec from fifth to second place in the Countdown to the Championship standings, just 38 points behind his teammate, Harley-Davidson® Screamin' Eagle®/Vance & Hines rider Andrew Hines, who qualified first for the event.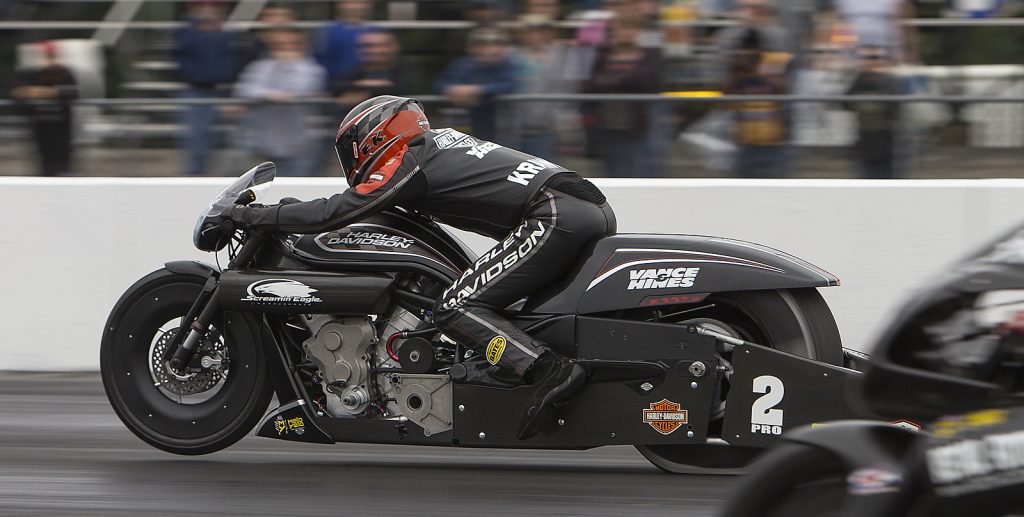 "We actually arrived for this weekend with a new set-up, and had to use that single qualifying session to gather data on our V-Rod bikes," said Krawiec, a three-time Pro Stock Motorcycle champion. "Those turned out to be big runs for us because with the standings so tight every point is going to matter before this championship is decided. The Harley-Davidson bikes thrive on cool air, so the weather on Sunday was perfect for us. Everybody got faster as we went rounds but we started ahead and that paid off with a big win for the team today."
Hines, the defending Pro Stock Motorcycle champion, led qualifying with a run of 6.784 seconds on his Harley-Davidson V-Rod motorcycle. Krawiec qualified second at 6.811 seconds on the team's other V-Rod. Hines advanced to the semi-final round of eliminations on Sunday. Krawiec advanced to the final round for the sixth time this season and won for the fourth time and the 35th time in his Pro Stock Motorcycle career.
"My main goal this weekend was to come in here and win," Krawiec said. "If you win races in the Countdown, you're going to be fighting for the championship when you get to Pomona. This was a big day for all of our team actually, Andrew and myself getting past the first round. When you draw top riders in round one, you don't say, 'Well, this should be easy. This should be no problem this weekend.' For me, I was on a mission because I knew if I went past the first round I could keep the momentum and keep it rolling."
After three of six events in the NHRA Mello Yello Drag Racing Series Countdown to the Championship, only 70 points separate the top five riders. Hines leads the field with 2341 points and Krawiec is second with 2303 points.
Round four of the NHRA Countdown to the Championship, the NHRA AAA Fall Nationals, is set for October 13-16 at the Texas Motorplex in Ennis, Texas.
About Harley-Davidson Motor Company
Since 1903, Harley-Davidson Motor Company has fulfilled dreams of personal freedom with cruiser, touring and custom motorcycles, riding experiences and events, and a complete line of Harley-Davidson motorcycle parts, accessories, general merchandise, riding gear and apparel. For more information, visit www.h-d.com.
The Harley-Davidson Screamin' Eagle/Vance & Hines Pro Stock Motorcycle team is sponsored by Dunlop.