For the fifth time this season, father and son will have to race each other in the first round of Pro Stock Motorcycle.
Hector Arana Jr. qualified his Lucas Oil Racing TV bike in the No. 5 spot, and father Hector Arana Sr. qualified his Lucas Oil Buell in the No. 12 position for the Dodge NHRA Nationals on Saturday at Maple Grove Raceway. That means they'll battle in the first round of eliminations Sunday.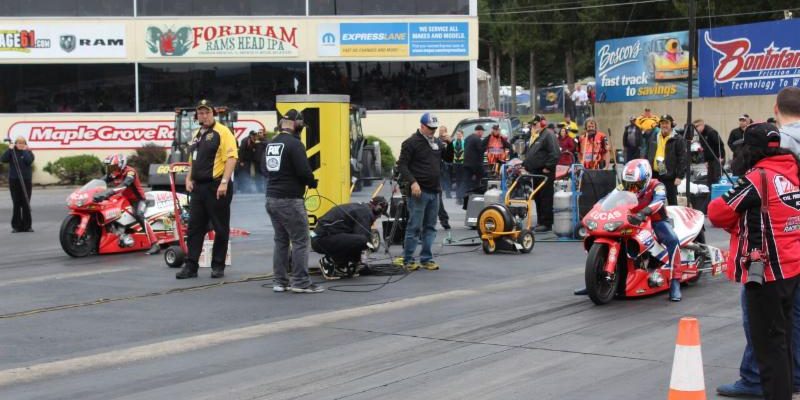 "We'll both go up there and do the best we can," Arana Jr. said. "It's all we can do. It's frustrating, really frustrating, but it is what it is. At least we both qualified and one of us is in the second round. I'm not sure what to expect for tomorrow, but we'll do our best, and that's all we can do."
The first two scheduled rounds of qualifying were rained out Friday, and Arana Jr. made a solid pass of 6.880 seconds at 193.02 mph in the first session Saturday. The final session was rained out.
Arana Sr.'s bike hopped at the hit in his qualifying run, slowing his bike to a 7.175 at 194.91 mph. He would have loved to have had a second chance to improve his qualifying spot.
"Yes, I definitely hate to race my son," Arana Sr. said. "Look at the qualifying sheet. Trust me: I'm not the only one who wanted this (final) run. It is what it is. Tomorrow I'll do my job, Hector Jr, will do his, and we'll see what happens."
Father has beaten son in three of the previous four matches between the two this year, but Arana Jr. got the better of his dad in their most recent battle, in Charlotte. They do know they'll have one Arana Racing bike in the second round on Sunday.
"That's how it goes sometimes," Arana Sr. said. "We've been blessed before that this hasn't happened, but this year it seems to go in that direction. Nothing we can do. Let the better rider and bike tomorrow take the win. Keep taking the torch and hopefully we can move up in the standings with the Lucas Oil Pro Stock Bike."
Arana Jr. is seventh and his dad eighth in the standings after two races of the six-race Countdown to the Championship.
Pro Stock Motorcycle eliminations start at 1 p.m., Sunday. FOX Sports 1 will broadcast the action live from 2 to 5 p.m., Sunday. (All times listed in ET).