Holy Hot, for a fall race at Kentucky's Beech Bend Raceway the ProMod class made it even hotter.  The ProMod class of the AMRA continues to put on a show no matter what the conditions.  This past weekend proved to be another battle of the elements with temperatures reaching nearly one hundred degrees and of course these ProMod machines are a battle all in themselves.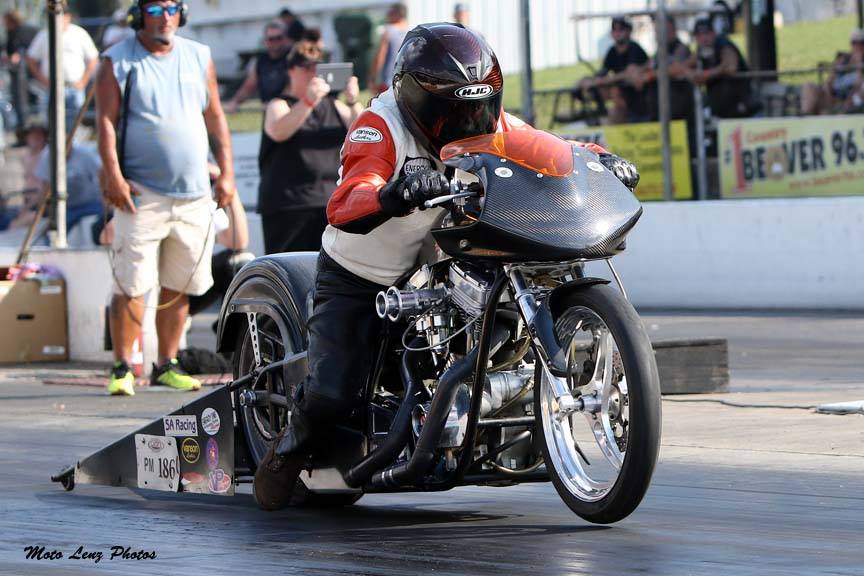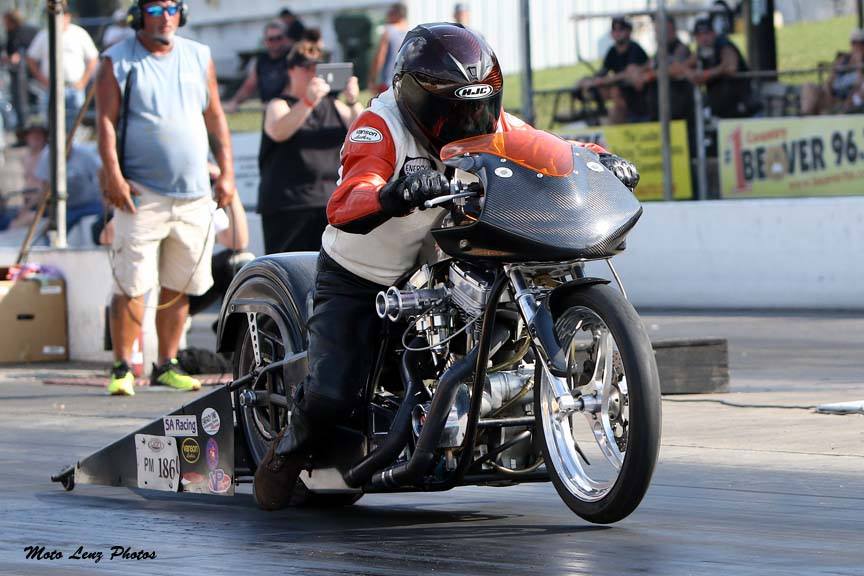 Saturday qualifying was very exciting and after all the dust settled, Shane Pendergrast and John Arnold of Double Trouble Racing sat at the top of the ladder, clinching the number one qualifying spot with their final run of the qualifying session.  Shane ran a very impressive 8.448 at 155 mph and showed he was ready to put another win on the board for this 2016 season.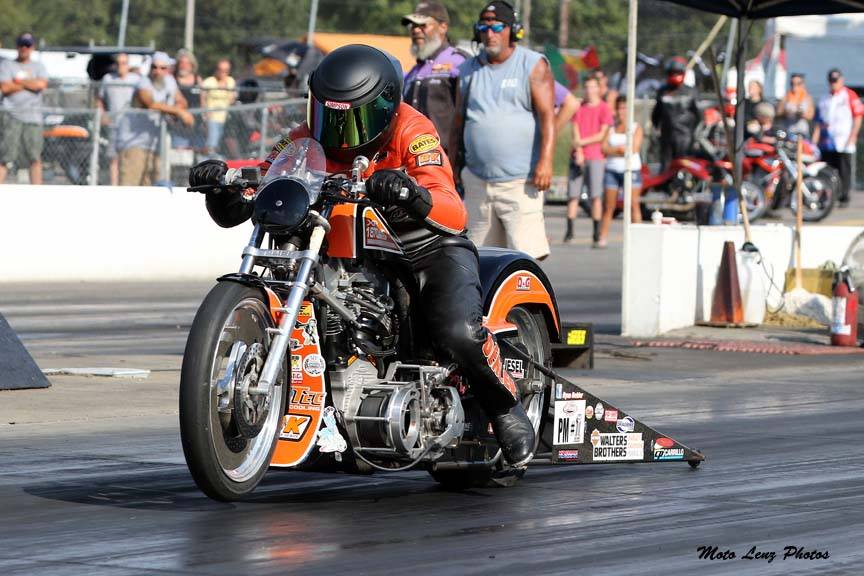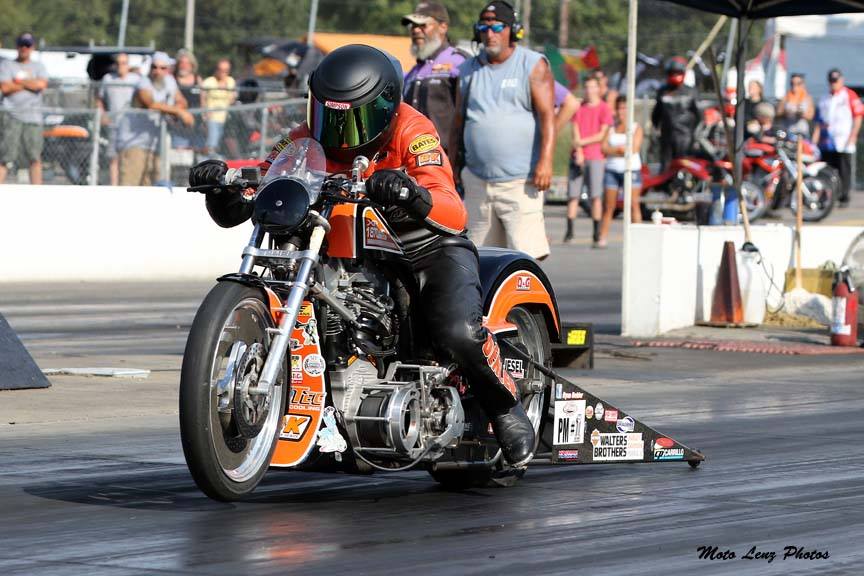 Ryan Oehler and Bad Brad were right there taking the number two spot with an et of 8.46 at 153 mph.  However, talk about a tremendous effort.  During the first test run of the day while doing the burnout, Ryan's bike rolled out of the water and immediately stuck a valve causing a major failure.  They broke several valve train parts, including an intake cam, rocker arm, pushrod, and valve.  They returned to the pits and began making repairs.  The team was able to return to qualifying during the second round and jumped to the number one spot despite their struggles, they don't call him Bad Brad for nothing.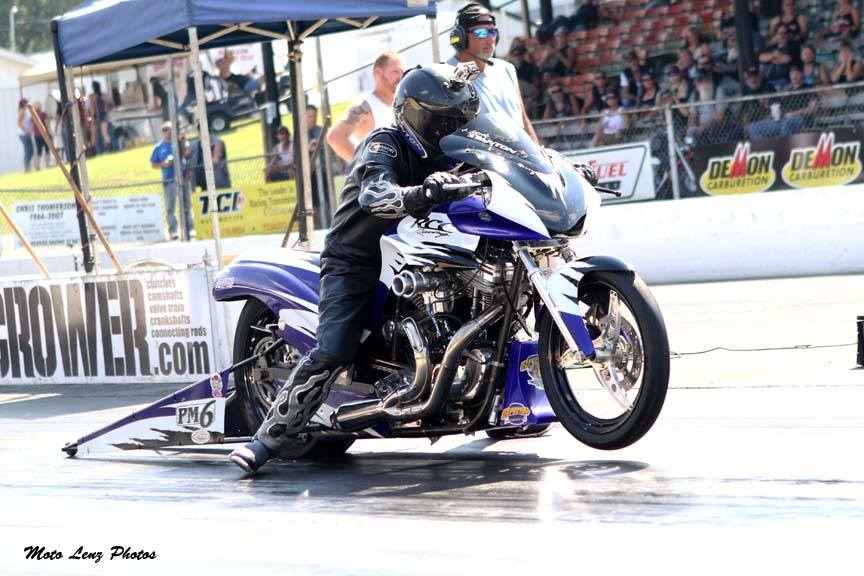 Henry Stanton laid down several strong runs and took the number three spot with an et of 8.55 at 152 mph.  Henry was pulling double duty with back to back passes and running between ProMod and ProGas.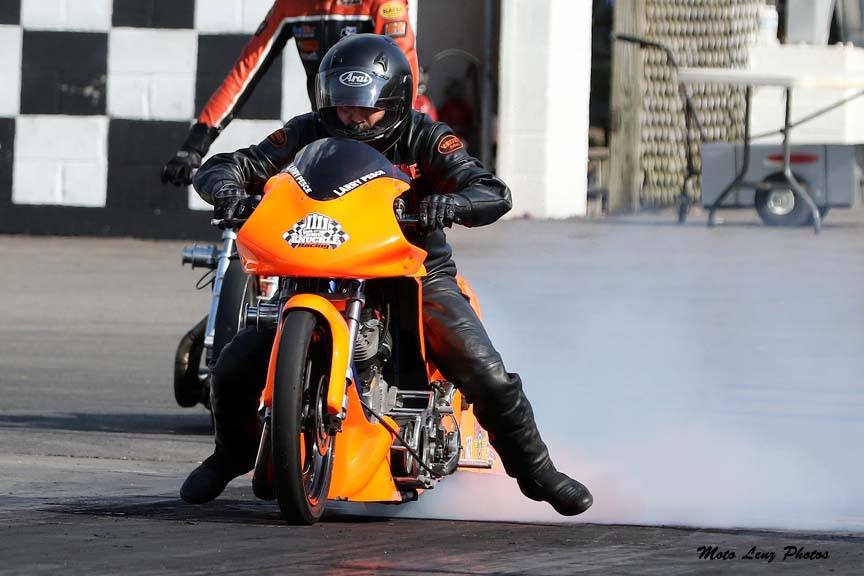 Larry Pesce was in the house and took the number four spot with an impressive et of 8.61 at 151 mph.  Larry has been working hard back home and running his ProMod machine at the local track of Atco New Jersey and it showed.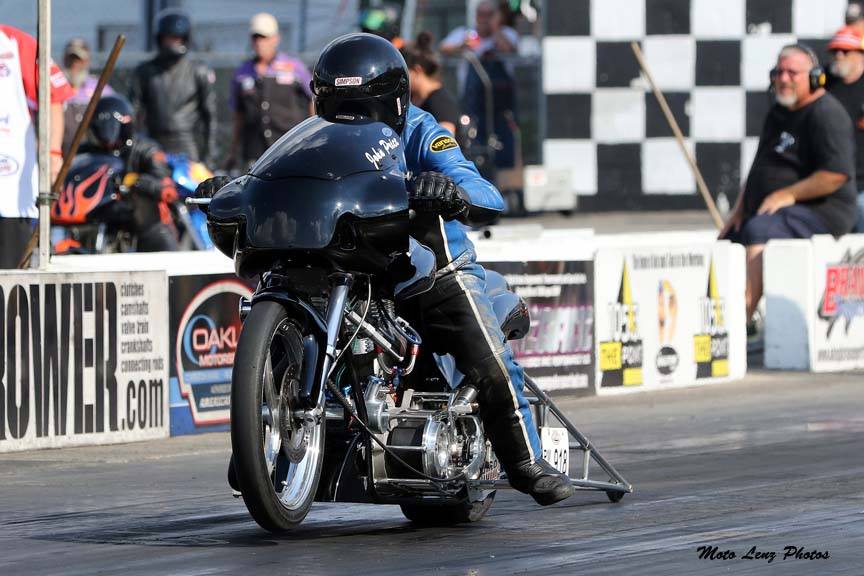 John Price took the number five spot with and et of 8.64 at 152 mph.  John has been very consistent and continues to show his stuff in this very difficult class of professionals.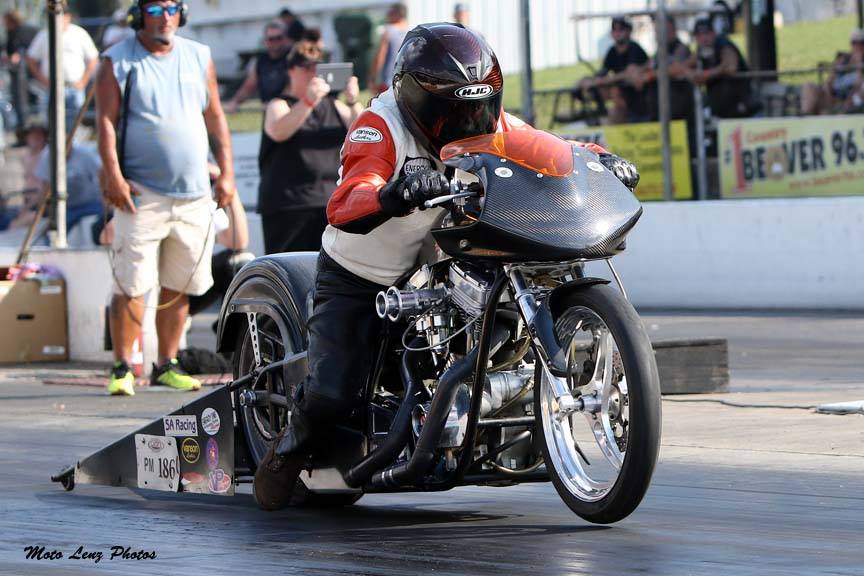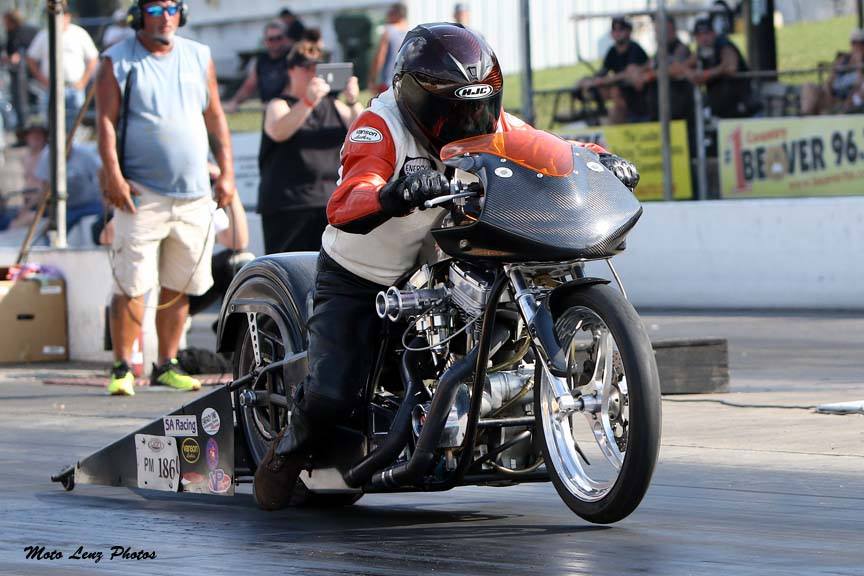 Gary Douglass was right in the mix with an et of 8.64 at 151 mph and took this classes number six spot.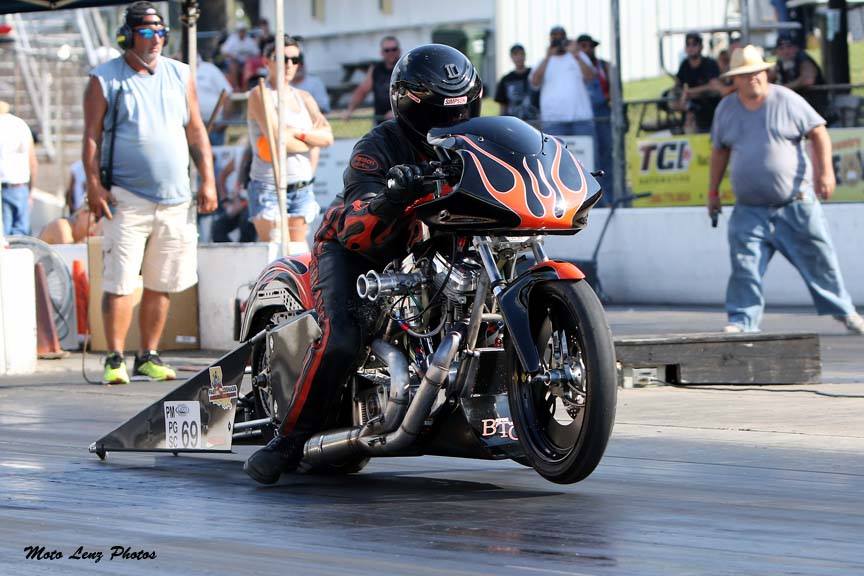 Clayton Danford took the number seven spot with an et of 9.61 at 155 mph.  It was obvious that this Iron Eagle ProMod machine was over powering the race track and will just need a little more time to get it dialed in.  Kyle Leblanc took the number eight spot in this class with an et of 9.76 at 105 mph.  Kyle has been fighting gremlins but gets closer and closer every event.  Be looking for Kyle to make some serious jumps in the near future.  Jerry Lee Cloyd had some major problems this past weekend.
Coming off of a complete engine blow up at the previous Martin Michigan race, Jerry and crew chief Ed Overstreet of REO Engineering had completely rebuilt their motor with the help of Simon Motorsports.  They rushed to get their setup for this race.  This weekend did not give them much sympathy and threw a hard curve ball when they blew up their transmission.  Ed jumped into action and was able to borrow a complete tranny from competitor Kyle Leblanc and made the repairs.  Unfortunately they could not make the repairs in time to get another qualifying pass and sat in the number nine spot, becoming the class alternate.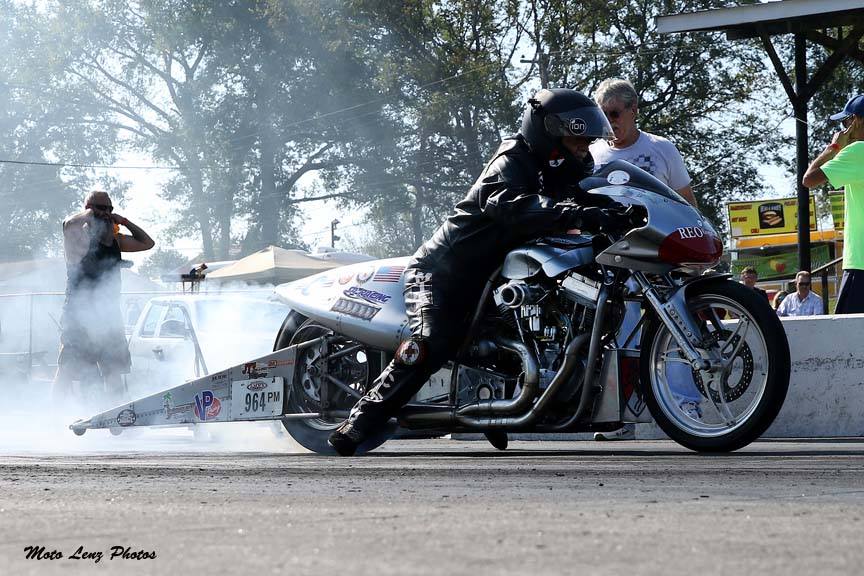 Sunday, Sunday, Sunday!  It was race day, and this class was ready to duke it out.  Ryan Oehler and Clayton Danford took to the starting line first.  Clayton had a great start with a .009 light to Ryan's .08, but Bad Brads Power took over and Ryan took home the win with an et of 8.48 at 151 mph to Clayton's 9.62 at 146 mph.  Next up for round one was Henry Stanton vs. Gary Douglass.  Henry cut a great light of .009 to Gary's .100.  Henry takes the win with an et of 8.66 at 151 mph to Gary's nearly identical 8.66 at 149 mph.  Next up was John Price vs. Larry Pesce.  These two are upper east coast rivals and have meet several times this year.  John Price would have the last laugh here today and took home a round one win with an et of 8.64 at 149 to Larry's et of 9.71 at 147 mph.  Larry had great light but had problems on the line.  Last but not least was our number one qualifier Shane Pendergrast vs. Kyle Leblanc.  Shane runs another strong run with an et of 8.52 at 154 mph to Kyles 9.84 at 141 mph.



Round two was also very exciting and the packed crowd at Beech Bend Raceway rushed to the line to check out this ProMod class.  First up was Shane Pendergrast vs. John Price.  Shane lays down another great pass of 8.55 at 154 mph to John's 8.78 at 148 mph.  Shane would move on to the finals.  Ryan Oehler lined up with Henry Stanton for round number two.  When the lights dropped, Henry just left a little early with a reaction time of -.007 to Ryan's .025, but it would not have mattered.  Ryan laid down another great pass with an et of 8.46 at 154 mph to Henry's 8.62 at 151 mph.
It was time for the final round and teammates Shane Pendergrast and Ryan Oehler were about to face off.  These two have been neck and neck all weekend and it was time to settle the score.  Each rider edged closer to the starting line as the crowd watched with anticipation.  The lights both dropped green and Ryan was out first with a reaction time of .024 to Shanes.057.  Ryan runs another amazing pass of 8.44 at 154 mph to Shanes 8.65 at 153 mph.  Ryan runs low et of the event on the final pass and after his major struggles on Saturday was ecstatic at the other end of the track.  Ryan has won his fourth straight race of the season and has clinched his 2nd AMRA ProMod championship.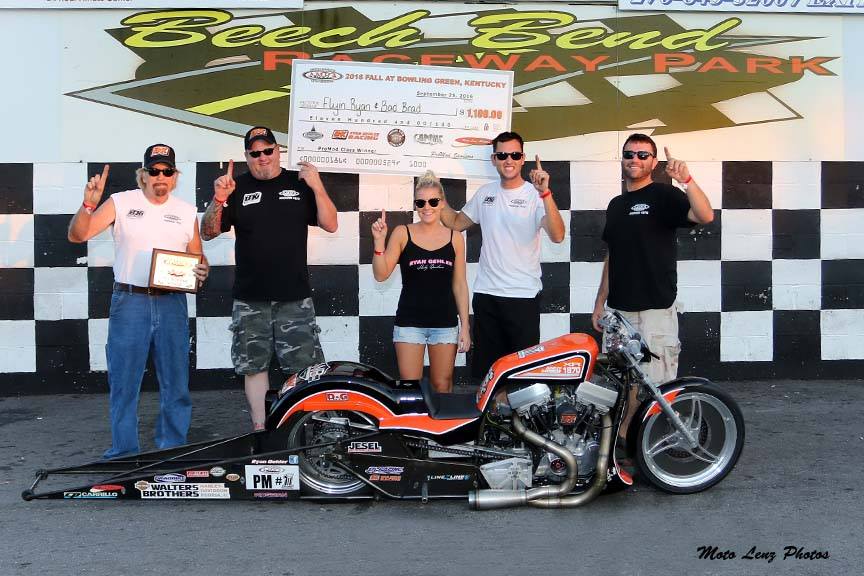 Wow! These ProMod machines really give the crowd something spectacular to watch.  The ProMod bikes are so close from pass to pass it is awesome to see who reaches the other end first.  This past race was a total success and the ProMod class has to thank its amazing sponsors.  Rochester Custom Cycles, Capone Racing, Moto Lenz Photo's, B&K Cylinder Heads, and Fog Designs have been so generous to contribute to this class and the riders of ProMod are very grateful for its continued support.  Make sure you check out the classes recent Promo video @ flyin Ryan on Facebook, and stay tuned to see more update as these ProMod machines head east to North Carolina's Rockingham dragway for the season finale on October 15-16.