He may hail from Miami, but for the last year and a half, Hector Arana Jr. has called East Northport, Long Island, home, making this weekend's 32nd annual Dodge NHRA Nationals another "home race" for the established star in the drag racing's Pro Stock Motorcycle class.
"I really kind of have two home races now, Englishtown (N.J.) and Reading, so that gives me two chances to win in my backyard," said Arana, an 11-time national event winner. "I like that because we lived in Florida and I've won Gainesville before and we lived in Indiana and I won Indy also, so I want to win up here now that we live close by."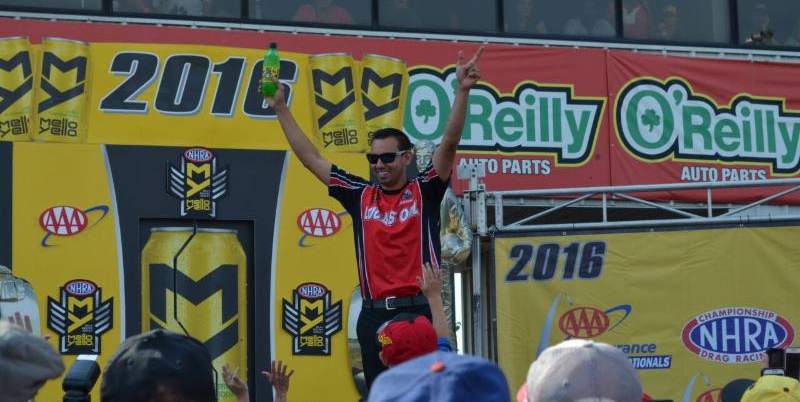 Arana already has tasted success in Reading, as he raced to the victory circle back in 2011, but he wasn't living in New York at the time. But all that changed when he got engaged to retired Pro Stock drag racer John Nobile's daughter, Nicole.
"I moved up here because Nicole is here, so naturally we want to spend as much time together as possible," Arana said. "Before, we spent most of our time together around the races, but that's tough because I was working on my bike most of the time. Now we're able to have a more normal life together. It's worked out well."
Like most racers on tour, Arana has been eying the forecast for the weekend and he likes what he's been seeing so far. Due to its location in the middle of Pennsylvania's bucolic Dutch Country, pure oxygen is in large supply in the picturesque valley where Maple Grove Raceway is located. The extra O2 gives the naturally-aspirated Pro Stock Motorcycles an additional boost of horsepower.
"If weather conditions are just right, we could see national records this weekend," Arana said. "We would really like to be in the mix to run those kinds of numbers. We have the power to do it; we just need to put it all together the right way.
"We've had a decent year and even got to the final round at Indy earlier this month but we want more. Reading would be a great place to win. I know I'd be happy to get it done."
Pro Stock Motorcycle qualifying sessions are scheduled for
1:30 and 4:30 p.m.
,
Friday
, and
11:30 a.m. and 3 p.m.
,
Saturday
. Eliminations start at
1 p.m.
,
Sunday
. FOX Sports 1 will broadcast qualifying action live from
6 to 7 p.m.
,
Friday
. Eliminations will air live from
2 to 5 p.m.
,
Sunday
. (All times listed in ET).