World champion Pro Stock Motorcycle rider Hector Arana Sr. maybe be one of the longest-tenured riders in the world's quickest and fastest two-wheel category of racing, but that doesn't stop the 58-year-old from acting like a kid at Christmas every time he rolls through the gates of Maple Grove Raceway, the site of this weekend's 32nd annual Dodge NHRA Nationals.
"Reading is an awesome place," the 2009 champ said. "I'm already looking to the weather, which is what we always do when Reading shows up on the schedule, and it looks like it's going to be one of those years where the track could be very, very fast.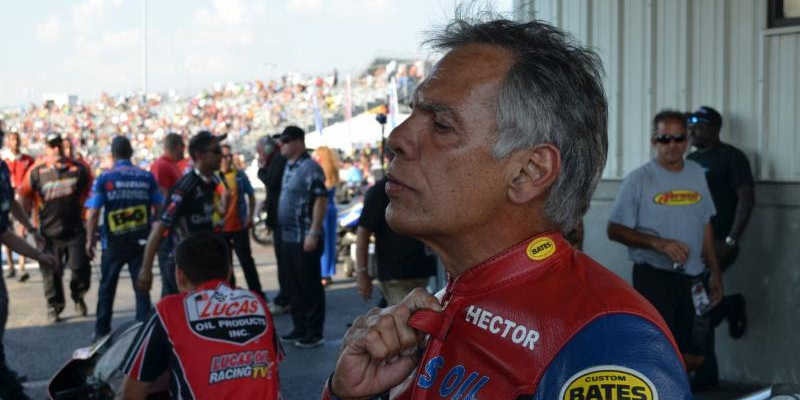 "Mr. Weatherman says it's going to be in the low 70s and maybe even the 60s
on Sunday
, so it's going to be mineshaft conditions, which means quick e.t.s. I just hope we can get some of those low e.t.s out of our Lucas Oil Buells so we can get the boost we need to pump us up and give us a little more confidence down the stretch."
Arana runs a two-bike operation with his son Hector Jr. astride the second team bike. Both men are sponsored by Lucas Oil, a partnership that goes back many years.
The duo are also regulars in the six-race Countdown to the Championship playoffs, which continue this weekend in Reading. Arana currently is participating in his eighth straight playoff chase, and his son is running in his sixth consecutive Countdown.
"It's important for both of us to do well in the playoffs and bring as much glory as possible to Forrest and Charlotte Lucas and everyone else at Lucas Oil Products," Arana said. "They have supported us for so long, through all the ups and downs, and we love to give them Wally trophies because that's the best way to say thank you back to them.
"I'm liking our chances. Both bikes are running well and we feel like we have the ability to win any of the races we enter. I've been around a long time, and I don't think it's ever been tougher than it is right now in this class, but that makes it more challenging and more satisfying when you do well. Hopefully this weekend is a big one for us."
Pro Stock Motorcycle qualifying sessions are scheduled for
1:30 and 4:30 p.m.
,
Friday
, and
11:30 a.m. and 3 p.m.
,
Saturday
. Eliminations start at
1 p.m.
,
Sunday
. FOX Sports 1 will broadcast qualifying action live from
6 to 7 p.m.
,
Friday
. Eliminations will air live from
2 to 5 p.m.
,
Sunday
. (All times listed in ET).