The Mickey Thompson Performance Tires International Drag Bike League™ (IDBL) polishes off its 2016 season with the DME Fall Nationals at Maryland International Raceway (MDIR) on October 8-9, 2016.
In addition to deciding champions in all classes, the Fall Nationals feature the $10K-to-win Orient Express Pro Street Battle Royale, Brock's Performance Street ET and Shinko Pro ET Tournament of Champions, and the return of Top Fuel match racing.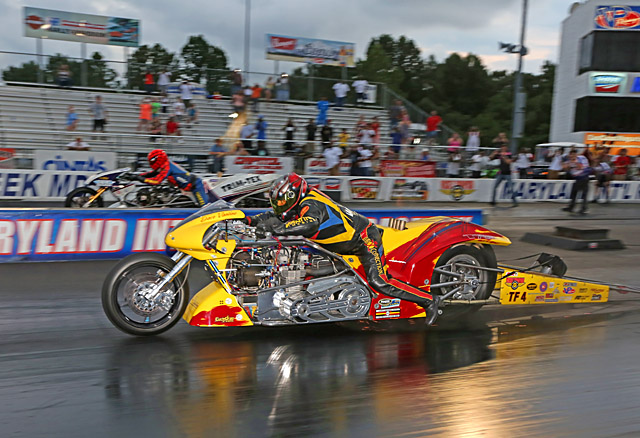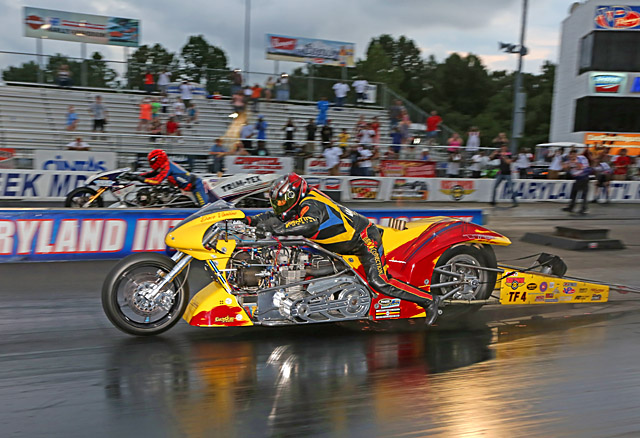 The Orient Express Pro Street Battle Royale is the first and still the best Big Money Pro Street race. DME Racing has owned the winners circle all three years of the event's existence—twice with Aruban superstar Terence Angela and once with three-time Orient Express Pro Street champion Joey Gladstone.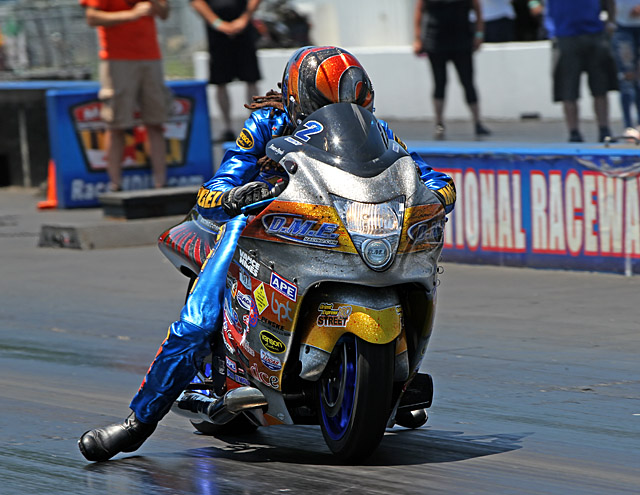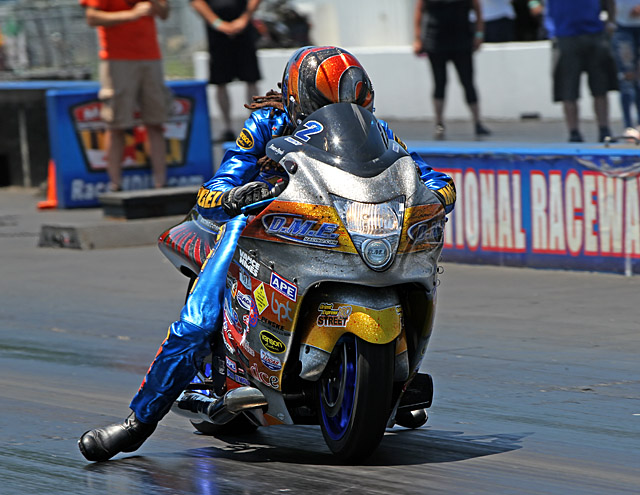 But Michigan racer Mark Paquette has evolved into a consistent 6.70-6.80 racer and is expected to mount a significant challenge. He and Gladstone have both expanded their racing resumes with recent NHRA Pro Stock Motorcycle gigs, and both are anxious to prove who is the best.
These three riders will have to fight their way through a huge field including Jason Dunigan, recent first-time winner Chris Connelly Jr., Darion Payne of Mace Motorsports, nitrous die-hard Doug Witt, D.D. Boulware of John Drake's "No Fear" team, Richard Gadson on Brad Mummert's crowd favorite GS, Jeremy St. Julien, Jamie Lopes, Eric Hart, Rocky Tinker, Keith Correia, three-time MIRock champion Rodney Williford, Jordan Haase, Mark Gargiulo, Ronnie Mitchell Racing's Mike Bayes and Jeremy Teasley, Andy Leslie and his Kawasaki ZX14, Curtis Ellerbe, Tony Ficher and the "Master-Blaster" 'Busa, Justin Shakir, Justin Doucet, Kenny Brewer, Jake Dugan, James Herbert, Donnie Taylor, Al Mart, Caleb Holt, Chris Klassen, Rudy Sanzottera and his Quicktime Motorsports crew, Ryan Hable, Del Flores, Ehren Litten and more as turbocharged, supercharged and nitrous no-bar bikes scorch the Budd's Creek quarter mile.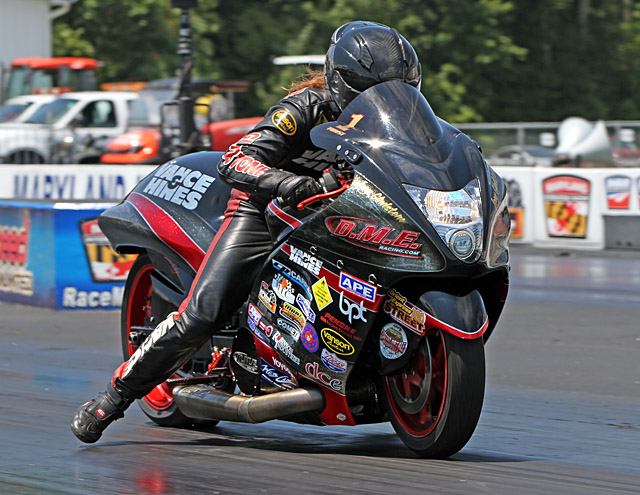 Pro Street racers at this event will come from all over the US and abroad, including Delaware, Michigan, Virginia, Maryland, South Carolina, Georgia, Indiana, Ohio, Connecticut, Pennsylvania, Massachusetts, North Carolina, Iowa, Wisconsin, New Jersey, Missouri, Aruba, Statia, and Canada.
Gladstone need only pay for a tech card to sew up his fourth straight Pro Street championship, but he's got some chasing to do if he's going to pass defending champion Anibal "Cannibal" Merced and his nitrous-huffing Kawasaki ZX14 in DME Real Street. Merced brings a 40-point lead over Gladstone as the two have separated themselves from the rest of the field. Can Gladstone win both pro championships?
If only two racers are left in the Real Street title fight, it seems like the whole field still has a chance for the Vance & Hines 4.60 championship. Long time racing superstar Ronnie Procopio has a 29-point lead over 2014 champ Eran Pielert, who leads "Long Island Mike" Ostrowski by only four. Behind them lay several other hungry racers who still have a chance.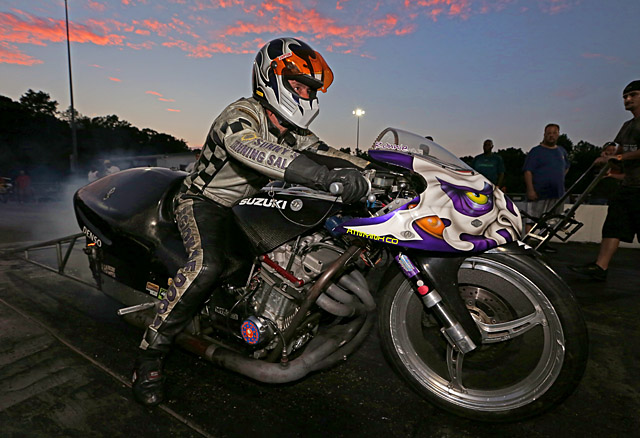 Ostrowski need not worry about who will be the FBR Shop 5.60 champion, though, because it will be him. After runner-upping at the season opener, 2014 MIRock 5.60 champ Ostrowski has won every race since.
Crazy 8s is even tighter than 4.60. Dustin "Biscuits" Lee leads Spencer Claycomb by 11 points, with Coutlan Whiting another nine back. Racers as deep as seventh place still have a chance at this one.
Maryland homeboy Chris Clontz has a healthy but not-insurmountable lead of 91 points over Jay Windsor in Top Sportsman. Can he seal the deal, or go out early like he did in July?
All of this season's Brock's Performance Street ET and Shinko Pro ET winners will face off in what might be the most heated competition of the weekend—the Tournament of Champions. Bracket racing studs will be chopping down the tree and playing the finishline for gold cards and bragging rights.
And Top Fuel legends Larry "Spiderman" McBride and David Vantine will face off in a series of ear-splitting, eye-tearing, nostril-stinging Top Fuel match races as nitro madness descends again upon MDIR. Will they run the sport's next side-by-side five second pass?
Big bikes, big speeds, big egos, big money—you will not want to miss the DME Fall Nationals this weekend at MDIR! Check out these videos:
Larry McBride invites you to the Fall Nationals
Royce Miller Invites you, Talks Track Conditions
Dimey Eddinger of DME Pro Street Invite
Past Champion Joey Gladstone invites you
Find out more about the Mickey Thompson Performance Tires International Drag Bike League at http://www.RaceIDBL.com
Find out more about Maryland International Raceway at http://www.RaceMDIR.com
The most anticipated, richest IDBL Pro Street Dragbike race of the year is upon us once again. The quickest and fast Pro Street racers in the world will assemble at ultra-quick Maryland International Raceway Oct. 7-9 to vie for the $10,000 event win and more than $22,000 in total purse.
Tentative Confirmed Rider List:
1- Joey Gladstone – Delaware – Hayabusa – Turbo
2- Terence Angela – Aruba – Hayabusa – Turbo
3- Jason Dunigan – Michigan – Hayabusa – Turbo
4 – Chris Connelly – Michigan – Hayabusa – Turbo
5- Darion Payne – Virginia – Hayabusa -Turbo
6 – Mark Paquette – Michigan – Hayabusa – Turbo
7- Doug Witt – Maryland – Hayabusa – Nitrous
8 – Demarious Boulware – South Carolina – Hayabusa – Turbo
9 – Richard Gadson – Georgia – GS 1100 – Nitrous
10 – Jeremy St. Julien – Georgia – Hayabusa – Turbo
11 – Jamie Lopes – Statia – Hayabusa – Turbo
12- Eric Hart II – North Carolina – Hayabusa – Nitrous
13 – Rocky Tinker – North Carolina – Hayabusa – Turbo
14 – Keith Correia – Massachusetts – Hayabusa – Turbo
15- Rodney Williford – North Carolina – Hayabusa – Turbo
16- Jordan Haase – Pennsylvania – Hayabusa – Turbo
17 – Mark Gargiulo – Connecticut – Hayabusa – Turbo
18 – Michael Bayes – Michigan – Hayabusa – Turbo
19 – Jeremy Teasley – Ohio – Hayabusa – Turbo
20 – Curtis Ellerbe – Maryland – Hayabusa – Turbo
21 – Andy Leslie – Michigan – Hayabusa – Turbo
22 – Tony Ficher – Massachusetts – Hayabusa – Supercharged
23 – Justin Shakir – Connecticut – Hayabusa – Turbo
24 – Bud Yoder – Michigan – Hayabusa – Turbo
25 – Justin Doucet – Indiana – Hayabusa – Turbo
26 – Doug Gall – Ohio – Hayabusa – Turbo
27 – Kenny Brewer – Connecticut – GSXR 1000 – Turbo
28 – Jake Dugan – Connecticut – GSXR 1000 – Turbo
29 – Del Flores – New Jersey – Hayabusa – Nitrous
30 – James Herbert – Virginia – Hayabusa – Turbo
31 – Donnie Taylor – Virginia – GSXR 1000 – Turbo
32 – Al Mart – Iowa – Hayabusa – Turbo
33 – Caleb Holt – North Carolina – Hayabusa – Nitrous
34 – Chris Klassen – Calgary, Canada – Hayabusa – Turbo
Possible
– Rudy Sanzottera – Missouri – Hayabusa – Turbo
– Brandon Mitchan – Texas – Hayabusa – Turbo
– Ehren Litten – North Carolina – Hayabusa – Turbo
– Ryan Hable – Wisconsin – Hayabusa – Turbo
– Quinn Orand – Tennesse – Hayabusa – Turbo
– Tommy Ivy – Florida – Hayabusa – Turbo
– Phil Stoll -Illinois -Hayabusa -Turbo
– Danny Cox – Virginia – Hayabusa – Nitrous
– Joey Jobbe – Illinois – Hayabusa – Turbo
– Drew Tolliver – Ilinois – Hayabusa – Turbo
– Jason Angela – Aruba – Hayabusa – Turbo
– Ryan Schnitz – Indiana – Hayabusa – Nitrous
– James Hendricks – Indiana – Hayabusa – Turbo
Past winners
2013
Terence Angela 6.95 def. Tony Ficher 6.98
2014
Joey Gladstone 6.95 def. Terence Angela 7.01
2015
Terence Angela 6.88 def. Rudy Sanzottera  8.30
Class Records
Joey Gladstone – 6.74 (turbocharged and overall) 4/16
Richard Gadson – 6.87 (nitrous)  10/15
Tony Ficher – 6.88 (supercharged) 6/16