July 27th, 2014 is a footnote in motorcycle drag racing history.
Top Fuel Motorcycle legend Larry "Spiderman" McBride and then second-year racer Dave Vantine roared down Maryland International Raceway in unison, producing the sport's first side-by-side five-second run, with McBride recording a 5.79 to Vantine's 5.97.
"That was very special to me," McBride said. "To run the first five in 1999 and then be a part of the first side-by-side five 15 years later is pretty awesome."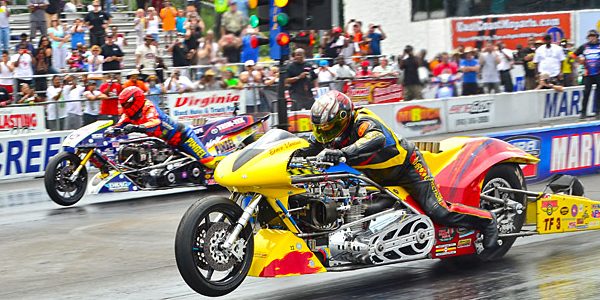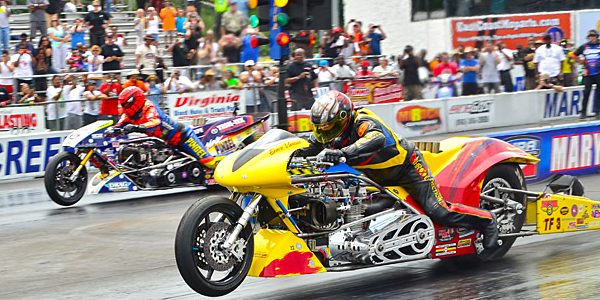 It was Vanitne's first five of his career, making him the ninth man in the world to accomplish the feat.
"It was huge. To be a part of two-fold history like that means the world to me," Vantine said. "Running a five is the benchmark in this class."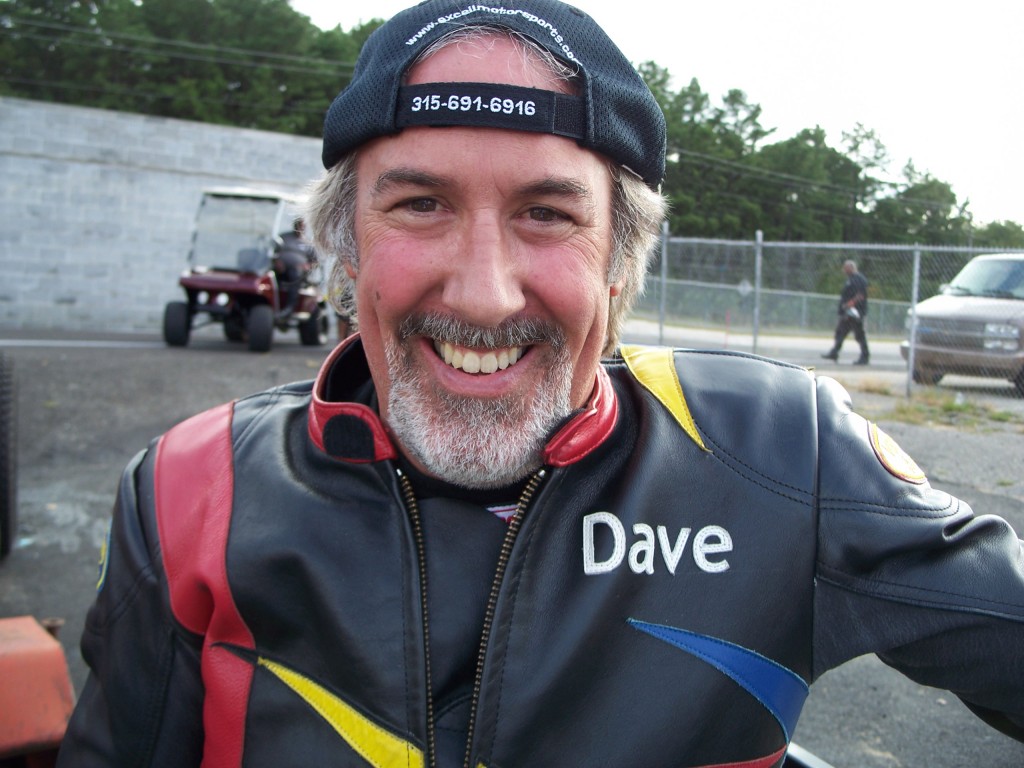 The duo will get another shot at history at the IDBL DME Fall Nationals at Maryland International Raceway, the 7th-9th of Oct., a month known to produce records on the Budds Creek launchpad.
"I think we have a great chance. We are back on track and nobody has run more fives in the history of the sport than Larry," said Vantine, who has run more fives at Maryland International Raceway than anyone else.  "I'm looking forward to it."
For McBride the struggle has been to get clean, consistent runs out of his brand new Top Fuel Motorcycle. His former machine "Blue", the epitome of consistency, was destroyed in Sept. of 2015 at an IDBL event in Atco, N.J.
The 15-time champ is fresh off his first win of the year and also feels as if he is on the precipice of another history-making run.
"It's a very good possibility. We are running much better than we have all season," said McBride who holds the national record at 5.76, and has been as quick as 5.74 in his career. "The weather will be just right. We know the track will be there. It's a matter of lining all the stars up and connecting them."
McBride's new Trim-Tex-backed motorcycle is appropriately named "Star."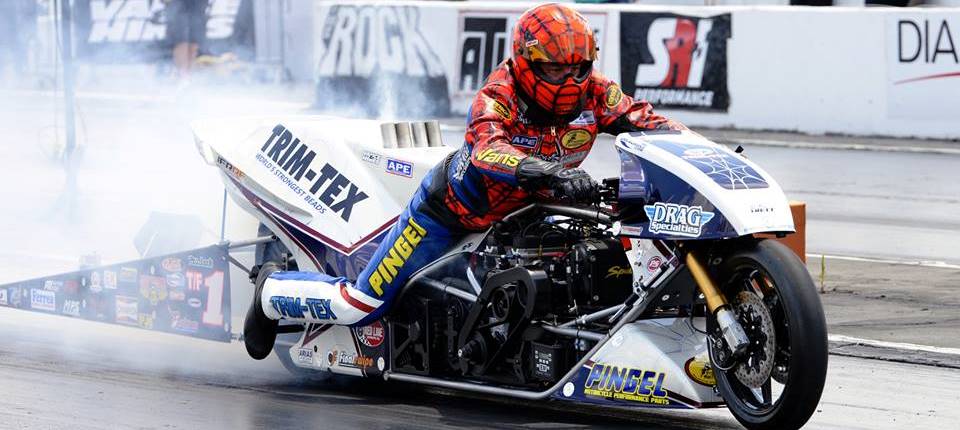 The past two seasons have accentuated just how special the side-by-side five achievement was. The Top Fuel class as a whole has improved greatly with riders such as Korry Hogan, Sam Wills and Chris Hand becoming quicker and more consistent. Yet, the magical double-five has eluded the category since that fateful day in Mechanicsville, Md.
It's a testament to just how challenging it is to get not one, but two 1500-plus horsepower motorcycles down the track without stumbling, dropping a cylinder or smoking the tire.
Vantine has seemed to discover the magic formula in Maryland. The Fall Nationals marks his sixth match race appearance at MDIR. He owns the overall series win advantage against the Spiderman and he is averaging three-out-of-four, five-second passes per event. In July at the IDBL WPGC Bike Fest it was Vanitne who was the object of consistency with another three runs in the five-second zone.
"A lot of it is the track. It's close to sea level. The surface is there," Vantine said. "My team knows what to do. We don't do anything drastically different."
McBride and Vantine are slated for four runs throughout the weekend.
For all their continued support with this new machine, McBride thanked his primary sponsors; Trim-Tex Drywall Products, Pingel Enterprise, Drag Specialties-Parts Unlimited, Red Line Synthetic Oil Corporation and Final Swipe Merchant Services.
Web-Cam, Vance & Hines Motorsports, Federal Mogul, Portable Shade, PR Factory Store, Ferrea Valves, Kibblewhite, Precision Machine, World Wide Bearings, Vanson Leathers, Five Star Powersports, Belt Drives Ltd, Simpson Race Products, Nitrous Express, APE, EK Chain, Arias Pistons, Cometic Gaskets, B&J Transmission, Carolina Cycle, L.A. Sleeve, PJ1, Mickey Thompson Tires, Valco, Goodridge, Carlisle Belts, ProJack, Bullseye Visual and Gates Belts.