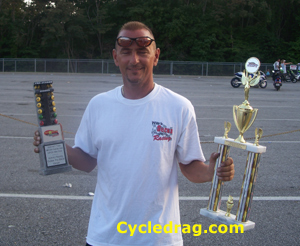 MIROCK Outlaw Pro Street racer Ronnie Procopio continued to build on his point lead by capturing his third win of season at the WPGC Bike Fest from Maryland International Raceway, July 19-20.
Procopio has been racing dragbikes for the last 14 years.  He continues to achieve unprecedented success in bracket racing by garnering multiple event victories. The former Waldorf, Md. resident ha amassed a staggering six MIR track championships in the last decade-and-a-half.
On average Procopio takes his bracket bike to a final at least once during a typical MIROCK weekend. Along with his win in Outlaw at the Bike Fest, Procopio finished runner-up in Quick 32.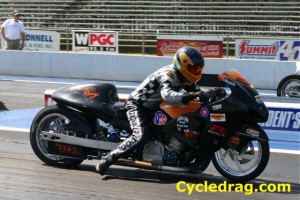 "It's all about consistency," Procopio said.  "From the time you start your bike to the time you twist the throttle, everything has got to be identical."
With three wins in Outlaw Pro Street in just five events this season Procopio, who is in only his second year in the category, is quickly proving to his adversaries that he is among the most elite riders.
"I love it.  It's my life now," Procopio said. "I know my roots, and my roots will always be in bracket racing but Outlaw is my life."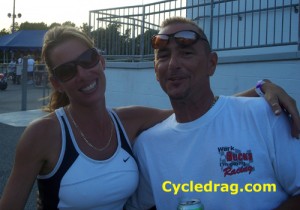 Procopio made the plunge into the heads-up class last year when his good friend and teammate Rob Hunnicutt turned him on to a L&W-built Outlaw machine being sold by Florida-based rider John Gatti.
"Robbie Hunnicutt was pushing me for the longest time to get in it.  He said because I am so light I would be a great fit," Procopio said.  "He helped me find a great deal on a bike I just couldn't pass up."
During Saturday's qualifying Procopio landed the No. 2 spot with a best run of 7.23, just three hundredths behind pole-sitter and defending class champion Dave Norris' 7.20.
The track was slick and we just couldn't find the combination to go with the conditions," Procopio said. "We ran out of time and didn't get the pole, but I was still happy with where we ended up on the ladder."
Procopio received a broke bye in round No. 1 when Brian Rich couldn't make the run. He went on to post a 7.17 to gain lane choice in round No. 2.
"The track actually got worse," Procopio said. "We picked it up to a 7.17 because as the track was going away we had to back down the tune-up.  It ended up being the right call."
Procopio then advanced to the final by ousting Brian Owens with a 7.21 to Owens' 7.74.
In an exciting side-by-side final Procopio reached the finish line first with a 7.23 to Norris' 7.25.  Procopio later admitted that he nearly conceded the victory.
Dave surprised me in the final," Procopio said. "I was getting ready to give that one to him.  I left and I heard his bike spinning. Then I got into the center of the lane and started spinning like crazy.  I thought for sure that he had shut it off and aborted the run.  My tire was spinning so hard I was just getting ready to abort my run.  That's when I heard his bike coming again.  That's when I decided to stay in it."
In the winner's circle Procopio reaffirmed how glad he was at his decision to stay in the gas.
"I would have been really upset if I gave it way," Procopio said.  "It feels great.  It's special to win here.  This will always be my home track."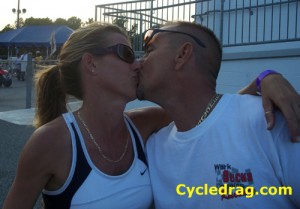 Ronnie's wife, Robin Procopio, who is an active and successful racer herself, had nothing but praise for her husband.
"I am extremely proud of him. He s a warrior.  I told him a long time ago to get into these classes and he'd do well," Procopio said. "Now he's addicted."
Procopio thanked Dave Conforti at World Wide Bearings, Dave Schnitz, Fast by Gast, Dan Wagner,  and Robert Hunnicutt