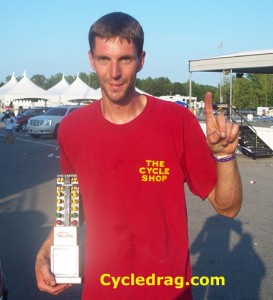 At the conclusion of the MIROCK WPGC Bike Fest from Maryland International Raceway July 19-20, sport bike specialist Mike Slowe stood victorious in the winner's circle.  In was not unfamiliar territory for Slowe, it had just been quite a while since he was there.
Slowe rose to prominence in the dragbike racing world by earning three consecutive championships in the MIROCK Pro Sport Bike category from 2003 to 2005.  After his reign of dominance Slowe decided to pursue other opportunities in other series, namely AMA Dragbike Pro Street and Super Street.
"I had some great opportunities presented to me like riding Barry Henson's Pro Street bike," Slowe said.  "At the time it just made sense, so I had to take a step away from 60-Inch and start something new."
After earring a pair of AMA Dragbike Pro Street titles and a Super Street championship Slowe returned to the MIROCK series for the first time in over two seasons and seemed to pick up right where he left off.  Only this time, Slowe wasn't even expecting to win.
"The bike I'm riding I borrowed from a customer and a good buddy of mine down in Louisiana.  He told me to just keep it for a couple days and figure it out and get it running strong," Slowe said. "So I thought why not go down to MIR and make some passes.  I never expected to win or go rounds.   Then all of sudden we get the thing running 7.90s and I'm right in the ball game with the top guys, and it just feels like old times, running good again."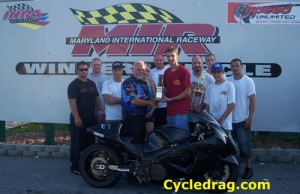 Slowe qualified in the No. 13 spot of the 15-bike field with 7.87 at 187 mph, behind John Jackman's 7.86, and Vincent Demito's 7.80.
In the opening round of eliminations Slowe posted a 7.92 to defeat the 8.65 of Doug Witt.  In round No. 2 Slowe improved to a 7.90 to get by Sean Walsh's 8.08.
In the semifinals Slowe edged out John Kulcycki by a narrow margin with an 8.02 to Kulcycki's 8.03  The only bad news for Slowe was that his 8.02 would not be good enough to gain lane choice over his final round opponent Anthony Navarro, who ran 7.92 on his semifinal pass.
"It didn't bother me because I knew he went down the left lane earlier and he would stay there," Slowe said. "I was liking the right lane all day so it worked out perfect."
In the final Slowe rose to the occasion by recording his quickest pass of the weekend at 7.81 to secure the win over Navarro's 8.01.
"Beating Navarro in the final was the biggest upset for us by far.  I thought he was going to turn the bike up more than what he did. I expected a mid-to-low eighty out of him," Slowe said. "I just kept my cool and figured if I could leave on the bike it will go the number.  The number has been there all weekend, I just need to ride it a little better, and for the final it all came together at once."
The victory was Slowe's first at MIR since 2005.  The only downfall for Slowe is that he had to defeat his friend to make it to the winner's circle. Afterwards Slowe joked Navarro had it coming.
"He's a great friend of mine. He would give me the shirt off his back," Slowe said. "Last time I ran 60-Inch he beat me three times in a row so I owed him that one for sure.  We would have shook hands either way, no matter who won.  That's just the type of friendship we have."
Slowe said winning in front of all of his old friends meant the world to him.
"Thanks to everybody," Slowe said. "Everyone was patting me on the back and it really brought my morale and confidence up. It feels great."
Afterwards Slowe announced that due to changes in his life he will be leaving the AMA Dragbike circuit to return to the MIROCK series.
"It's been too much traveling and I'm getting married in a year-and-a-half so I need to stay close to home," Slowe said. "These MIROCK races are a little more feasible for me.  I don't want to quit racing all together."
Slowe thanked Velocity Racing, Mickey Thompson Tires, PR Factory Store, Cycle Shop, World Wide Bearing, and Falicon,