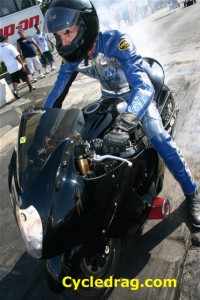 Two time AMA Dragbike Pro Street champion Mike Slowe earned his reputation in the MiRock Superbike series, winning two 60 Inch titles a few years ago. The 60 Inch class morphed into today's Orient Express Pro Sportbike class, and Slowe returned to show that he could still hustle short bikes down the quarter mile at Maryland International Raceway's annual WPGC Bike Fest July 19-20.
Slowe didn't exactly dominate the weekend, qualifying third behind defending Pro Sportbike champ Vinnie Demito and the old school nitrous GSXR of John Jackman. Former champ Anthony Navarro was fourth, demonstrating the parity achieved by the weight/power adder/wheelbase equalization formula that separates Pro Sportbike from 60 Inch. Demito and Slowe both run at 60 inches. Heavyweight Navarro gets to add a few extra inches of wheelie-stopping wheelbase. Nitrous diehard Jackman gets even more wheelbase and lower ground clearance.
Demito, on a four race win streak, was running deadly consistent low 7.80s on the hot and slippery, 138 degree, southern Maryland track. But the normally unflappable Demito blipped a -.003 redlight against Dimey Eddinger in round 2. Jackman's day also ended in round 2 in a close race with former Heavyweight champ John Kulcycki. Kulcycki came out on the wrong side of a close one against Slowe in the semi, while Eddinger should have paid more attention to his winlight in the round against Demito. The race well in hand, Eddinger kept the throttle pinned anyway and sprayed his Suzuki Hayabusa motor all over the top end. That gave Navarro a solo pass in the other semi, and he took the opportunity to gain lane choice by a tenth over Slowe in the final.
Navarro runs the Magneti-Marelli system that replaces the factory electronics on his turbocharged 'Busa, while Slowe's mothballed 'Busa runs the old "piggyback" system. But Slowe finally got the limited system all dialed in for the final, running a 7.81 to beat Navarro's 8.01.
Slowe also gained fame by beating MIR event director Jason Miller in an episode of Speed Channel's "Pinks".  At the WPGC Bike Fest, MIR announced that the track will be the stage for two motorcycle themed pilot shows developed by "Pinks" host Rich Christensen during the MiRock round in October.
HTP Performance True Street remains the current action class, and the top players from the June race were still tops in July. Despite the heat, Keith Thompson qualified number one with a record setting 8.13 on his HTP prepped GSXR1000. Running a little slower on raceday, Thompson beat Rickey Grayson with an 8.30 in the semi, while Norman Jackson beat Rickey Gadson's spinning Kawasaki ZX14 in the other semi. Thompson beat his former K&N Motorsports teammate Jackson in the final.
AMA Dragbike's Pro Street bikes made their second MiRock appearance of the year. Alphonso "Lil' Butch" Thompson qualified number one on Saturday, but Mike Kovacevich took his first ever professional win on Sunday. It was also the first win for Kovacevich's Joe Hahn tuned Orient Express/Rush Deal Hayabusa. Bud Yoder runner-upped on a newly built Ronnie Mitchell Racing 'Busa. Mitchell's gray primered beast now has three wins and one runner-up in its first four races.
Schnitz Racing Outlaw Pro Street class champion Dave Norris qualified number one in the slim six bike field, but Ronnie Procopio did a better job of hustling his seven inch slick down the greasy track on Sunday, beating Norris 7.23 to 7.25 in the final. Procopio missed out on a big payday, losing to Andy Baumbach in the FBR Shop Quick 32 final. Baumbach then beat Sunday's Fast by Gast Pro ET winner Clay Davies in the big money runoff. Mike Herman Jr. won Pro ET on Saturday, while Boo Brown beat Mike Herman Sr. in Saturday's Street ET race. Darrell Mahoney won Street ET on Sunday and Mike Person won Pro Mod.
The MiRock Superbike series continues with the Schnitz Racing Summer Sizzler_at Rockingham Dragway on August 16-17.