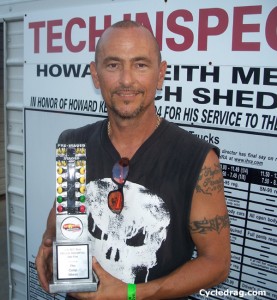 There's no place like home.
Motorcycle drag racing standout, Ronnie Procopio, is a firm believer in those words made famous by Dorothy from The Wizard of Oz.
For the majority of his life, "home" to Pro Comp racer Procopio, now of Wake Forest, N.C., was Waldorf, Md.  It was in this Southern Maryland town that Procopio's love for dragbike racing flourished and Maryland International Raceway became his home track.
As a bracket racer, Procopio established himself as one of MIR's most dominant riders, claiming a staggering seven track championships, along with multiple season titles and event wins in the MIROCK series.
Recently Procopio moved south and sold his bracket bikes to fund his Pro Mod Suzuki operation. The North Carolina resident enjoyed an ultra successful MIR homecoming at the Fast by Gast/WPGC Bike Fest, July 17-18. Procopio dominated the Pro Comp category by winning the event, qualifying on the pole and recording low elapsed time of each round of competition.
"This is my track," Procopio said with a grin. "I expect nothing but a win at my home track. I love this place and it loves me."
Procopio took the pole with a career best lap of 4.18 at 169 mph.  He attributes the surge in performance to his new chassis.
"It's smooth.  It's like a Cadillac," Procopio said after using the new chassis for only the second weekend.  "It's four inches longer than the old one from the crank to the axle."
The chassis did it's job. Procopio's personal best came amidst less-than-favorable track conditions. With temperatures soaring over 100 degrees at the Bike Fest, Procopio can't wait to get back to the next MIROCK event at MIR, The Super Bike Finals, Oct. 2-3.
"MIR is such a fast track when the weather cools off a bit.  We should be able to run 4.0s at the next race," Procopio said. "I could have added a lot more power to the bike, but the top end was just a little too slippery.  Overall the track was excellent for how hot it was."