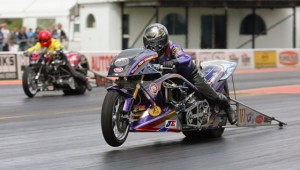 After the rain curtailed European Championship opener the Portable Shade Top Fuel Bike team elected to run the UK Summernationals to test their new components prior to the Nordic tour. With the Nitro Nationals in Finland fast approaching they needed valuable track time and immediately showed that the close season preparations and key component changes had moved them up a notch in their quest for a fourth European Championship crown.
An off the trailer first run of the season resulted in personal bests in both elapsed time and speed, with a 6.317 second 221.06 mph run despite dropping a cylinder at three quarter track.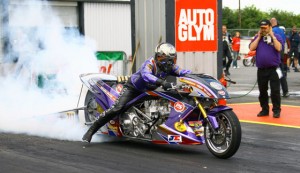 As the final loomed without spare clutch parts the team decided to open up the clutch bleeds in an attempt to alleviate the clutch slip problems for the final, but this action proved a step too far and the primary belt broke after the engine pulled down at gearchange and could only watch as their sizable advantage at half track was surpassed by the Nitro Harley of Ian Turburville.
However, with two new personal bests and a new UK record in the bag things look good for the Portable Shade Top Fuel Bike team heading into the second round of the European Championship.