The pressure of racing for an NHRA Mello Yello Drag Racing Series championship is nothing new for Lucas Oil Pro Stock Motorcycle rider Hector Arana Sr.
As the Countdown to the Championship begins with the NHRA Carolina Nationals this weekend in Charlotte, the elder Arana will be making his eighth consecutive appearance in NHRA's version of the playoffs.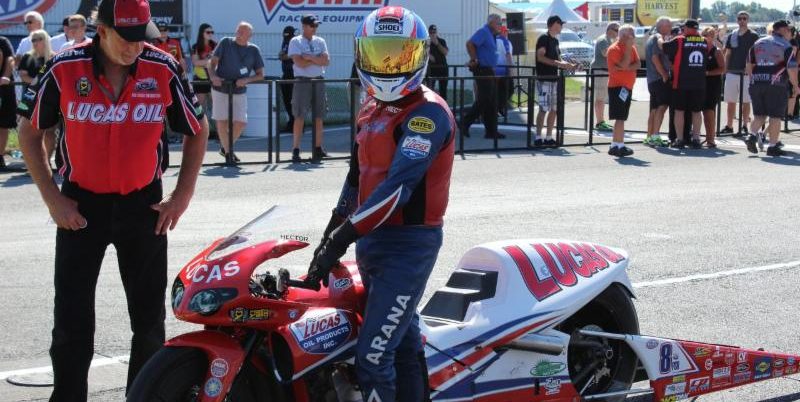 Arana won the championship in 2009 and has recorded five top-five finishes since the Countdown was implemented. He'll begin this year's playoffs as the No. 8 seed, 90 points out of the lead, after the points were reset following the U.S. Nationals.
"I look at it like the points got closer and we just have to stay focused," Arana said. "I think we have a good shot at winning the championship. The program is coming around, we are picking up the pace, so that's good. I'm just going to look at it one race at a time because if we focus on the championship, all of those races, we can lose sight of it, and we don't want to do that."
That's easier said than done, especially since the first three Countdown races are run on consecutive weekends. Arana has to prepare for the first three events, all while focusing on one race at a time.
"It is kind of hard because when the races are back to back, you've got to plan ahead and have everything lined up so there's nothing wrong," Arana said. "We had a problem with computers in Indy. We had two computers acting up, so we had to buy another set.
"We've got to be ready. It's a lot of pressure. You shouldn't think ahead, but on the other hand you do because we have to be prepared if something goes wrong so we are able to solve the problem right then and there."
In addition to making plans for the first three races of the Countdown, Arana still wants to improve his performance. His son, Hector Jr., has shown plenty of speed recently, so Arana knows he can do the same.
"I just don't know why the bike is not leaving the starting line," Arana said. "I've been struggling for a while with it and something is going on, but we're not going to stop. It's something I started paying attention to more than just the clutch.
"We had a little break, just a little break, and we made sure the motors are safe."
Pro Stock Motorcycle qualifying sessions are scheduled for 3:15 and 5:30 p.m., Friday, and 12:45 and 3 p.m., Saturday. Eliminations start at 1 p.m., Sunday. FOX Sports 1 will broadcast qualifying action from 6 to 7 p.m., Friday, and 11 a.m. to noon, Sunday. Eliminations will air live from 2:30 to 5:30 p.m., Sunday. (All times listed in ET).