It's the best case scenario for the PSE/Star Racing Buell team of Angelle Sampey and Cory Reed. Both have raced their way to the Countdown to the Championship and with the points reset coming into effect this weekend at the Ninth annual NHRA Carolina Nationals, the PSE/Star Racing duo has two chances of coming away with the Pro Stock Motorcycle World Championship at the end of the season.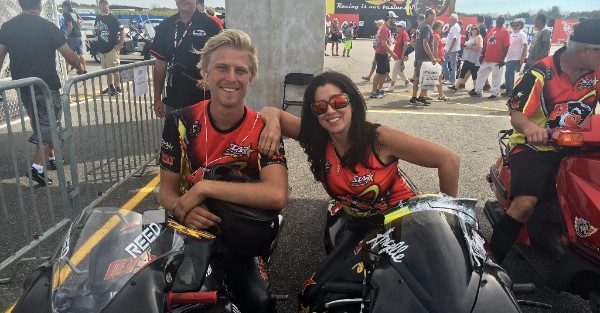 Three-time NHRA Pro Stock Motorcycle World Champion Angelle Sampey and Rookie of the Year contender Cory Reed may have many years of experience riding a motorcycle separating them but they both approach the Countdown to the Championship in the same way.
"I accomplished one of my goals which was getting into the Countdown," Reed said. "Going to the semifinals in Indy helps me build confidence because I know we can do that every weekend if everyone does their job; if I can drive well and George gives it a good tune-up, we will be pretty hard to stop."
"I think our team's goal for the Countdown is to just keep doing what we've been doing all season," Sampey said. "I try not to think about the points too much because if I do, I'll end up putting too much pressure on myself and I don't want to let myself down. I'd rather just focus on doing well every run and it'll end up how it ends up. We're in championship form with my bike and we're getting there with Cory's bike. Now that we're both in the Countdown, I know we'll keep going in the right direction and I don't see us doing anything differently with our PSE/Star Racing Buells."
Qualifying at the Ninth annual NHRA Carolina Nationals at zMAX Dragway begins with two qualifying sessions on Friday, September 16th at 3:15 and 5:30 p.m. (ET). Qualifying will continue on Saturday, September 17th with two more qualifying sessions at 12:45 and 3:00 p.m. (ET). Eliminations for the NHRA Carolina Nationals will be held on Sunday, September 18th at 12:00 p.m. starting with Top Fuel.
PRO STOCK MOTORCYCLE POINT STANDINGS
Andrew Hines 2110
Eddie Krawiec 2080
ANGELLE SAMPEY 2070
Jerry Savoie 2060
LE Tonglet 2050
Chip Ellis 2040
Hector Arana Jr 2030
Hector Arana 2020
Matt Smith 2010
CORY REED 2000



RACE SCHEDULE FOR NHRA CAROLINA NATIONALS:
Friday, Sept. 16: two qualifying sessions at 3:15 and 5:30 p.m. (ET)
Saturday, Sept. 17: two qualifying sessions at 12:45 and 3:00 p.m. (ET)
Sunday, Sept. 18: eliminations begin at 12:00 p.m. (ET) beginning with Top Fuel.
CAROLINA NATIONALS ON FS1:
Friday, Sept. 16: one hour of live qualifying at 6:00 p.m. (ET)
Saturday, Sept. 17: one hour of qualifying coverage at 11:00 a.m. (ET)
Sunday, Sept. 18: three hours of live finals coverage at 2:30 p.m. (ET)