Victory Motorcycles rider Matt Smith isn't worried at all about the deficit he faces as the Countdown to the Championship begins this weekend at the NHRA Carolina Nationals in Charlotte.
Smith begins the playoffs in ninth place in the Pro Stock Motorcycle standings, 100 points out of the lead. He has six races to earn his third championship, and his experience from his 2013 season tells him anything can happen.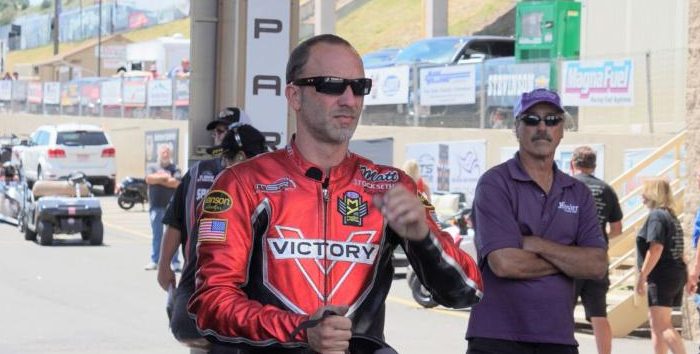 Smith lost in the second round of the first race of the Countdown that year, but he then stormed to four consecutive final rounds, winning three races and clinching the title at the penultimate event of the season, in Las Vegas.
"At the end of (the season opener in) Gainesville we were way behind in the points, so we are going into the Countdown behind less points now than after Gainesville," Smith said. "I feel good about that. We are going to be 100 points behind going into the race for No. 1, but that's very doable with six races to go.
"We just have to get hot. It's time for our Victory Motorcycles to get hot this year, and the Countdown is a good time to do it. Let's start at our home track and see what happens."
Smith and his Victory Gunner are more than capable of getting hot, especially starting in Charlotte. Smith, whose team is based 90 miles away from the track in King, N.C., raced to the final round of the NHRA Four-Wide Nationals here in April. He won here in 2010 and was runner-up in the race last September.
Smith has shown speed out of his Gunner in 2016, qualifying No. 1 in Chicago and racing to the second round four times and to the semifinals once. With a little luck, his numbers could be much better.
"We didn't qualify real good at Indy, but on Monday we were third-quickest of the round when we lost in the first round," Smith said. "We've got a good bike. We've qualified good all year long. When the bike has been right, we've done good. I think we will be fine. We've just got to go do our job, everybody's got to perform, and the bike has to do its job."
Pro Stock Motorcycle qualifying sessions are scheduled for 3:15 and 5:30 p.m., Friday, and 12:45 and 3 p.m., Saturday. Eliminations start at 1 p.m., Sunday. FOX Sports 1 will broadcast qualifying action from 6 to 7 p.m., Friday, and 11 a.m. to noon, Sunday. Eliminations will air live from 2:30 to 5:30 p.m., Sunday. (All times listed in ET).