Ryan Oehler has shared the following report about his successful weekend at the AMRA race in Xenia, Ohio, May 29-30.
The AMRA put on a serious show this weekend at Kil-Kare raceway in Xenia Ohio for the 3rd annual Spring Nationals.  The weather was all over the place with highs over 90 degrees on Saturday and dropping to the mid 60's on Sunday, but the weather gods really wanted to see these fast Harleys blaze down the track and held the rain off till the end of the day on Saturday.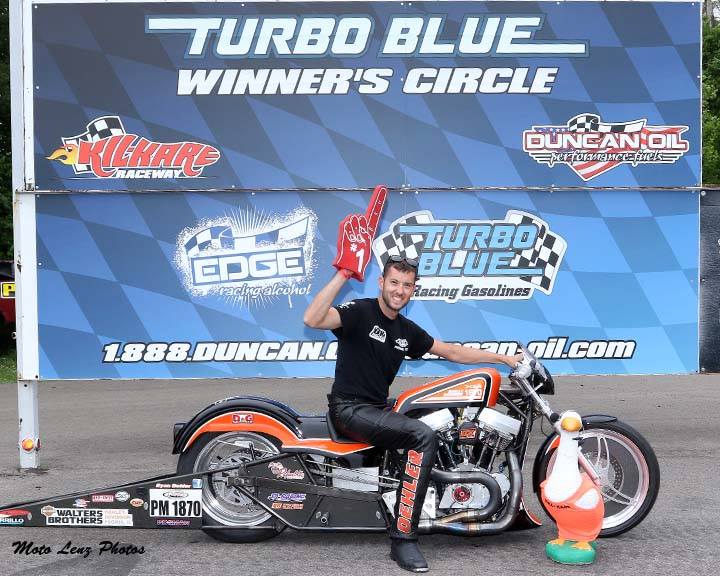 After leaving the previous race at bowling green last month with a pile of parts in our hands, we had a lot of work to do in preparing for this race at Kil-Kare.  We broke two cams, a rocker arm, bent two valves, tagged piston, and broke our outboard starter all on Sunday of elimination at Bowling Green.  So when we got home we had to kick our operation into overdrive. Thanks to Frank Capone I was able to get a new starter cart and my father "Brad Oehler" hard work in the machine shop we was able get this beast back up and running fairly quickly.  We also rented Central Illinois Dragway in Havana Illinois in preparation for this race to do some clutch testing.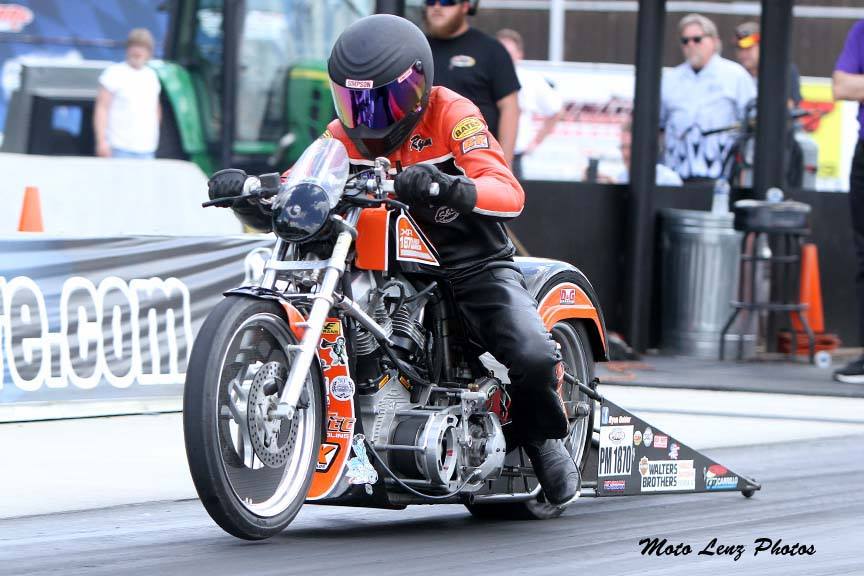 During testing we ran with in .02 of the 1/8 record and really gave us some serious momentum going into this race at Kil-Kare.  Another main contributor to these amazing et's came from our newly developed carburetor from Steve Allstaedt at SA Racing.  We had been running primarily a stock S&S Super D carb with multiple thunder jets and knew that we were just leaving et on the table with that carb.  We contacted Steve and had him build us a new carb and immediately saw big results.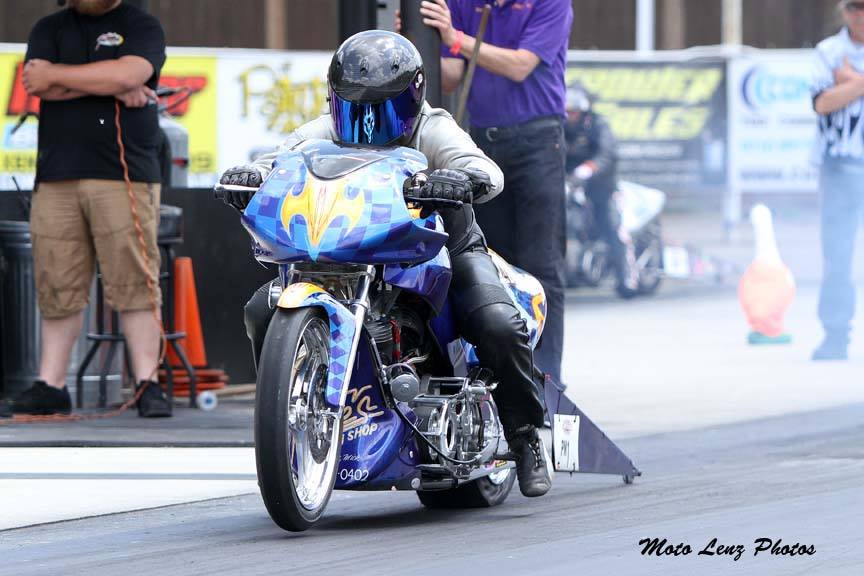 We nearly picked up 3 mph the first day of testing.  There is no sleep for our racing operation, we continue to work on our program every day just to keep up with the pace of this class.  We are not the only one's working hard in this class.  Hank Stanton's team had a very hard month as well.  They also left the Bowling Green race with several broken parts and was forced to do a motor swap before making this race.  And if that wasn't hard enough, Hank could not make it to this race so he asked Billy Doherty to ride his bike while Hank attended his daughter's wedding.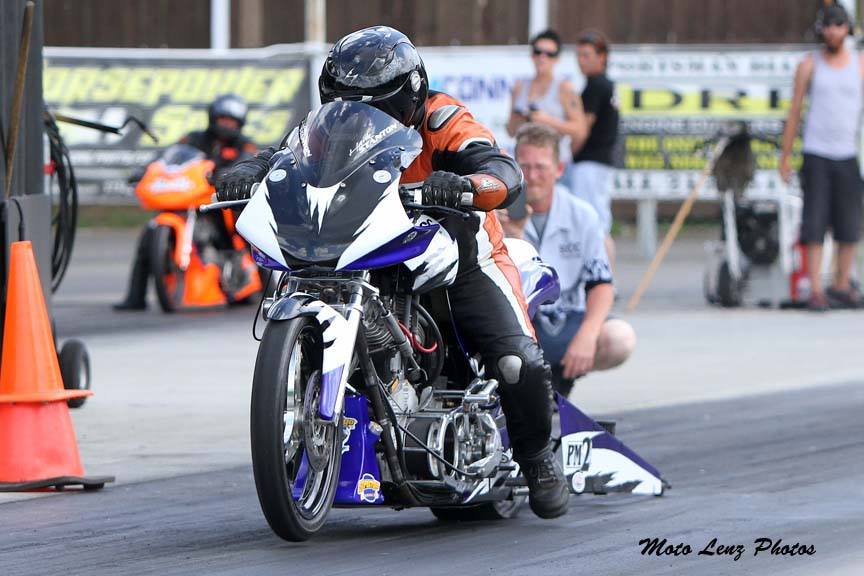 Mike the team's crew chief led the team to the race and ran into some serious trouble on their journey to Ohio.  Their trailer door came open and struck a toll booth and was ripped right off the trailer.  This was a complete surprise when they noticed as they stopped for fuel and there was no trailer door.  Thank god for plywood and home depot because of the persistence they were still able to make it to the race.
On Saturday we finished out the day as the #1 qualifier running an 8.53 @ 154.16 mph, which was pretty good considering the air was nearly 4000 ft DA and the temp was 90 degrees.  This put us on the good side of the ladder for eliminations on Sunday.  First round on Sunday we faced off with Billy Doherty on Rochester Cycles bad boy machine and ran a really nice straight pass of a 8.57 @150.6 mph to move into round 2.  On the other side of the ladder Morry Straubel ran against Jerry Lee Cloyd and Jerry was just a little quick on the tree and turned on the red bulb giving Morry a free pass into the 2nd round.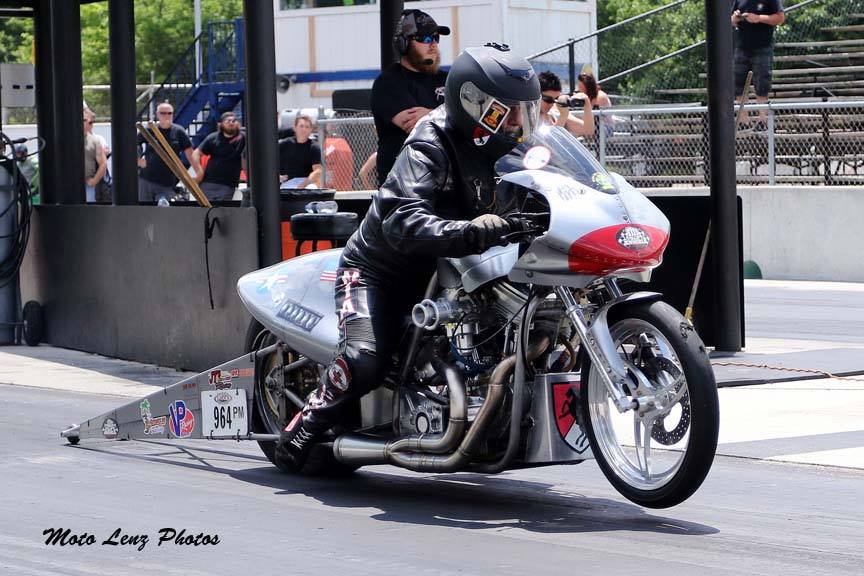 Larry Pesce also moved into round 2 beating Gary Douglass with a close side by side race.  In round two Morry and Larry met and battled it out for a spot in the finals, Morry just nudged out Larry with a pass of 8.61 @ 152.39.  I had a bye run in round two and was really trying to cut a good light to give me the confidence for the finals. I launched with a pretty good at a .04 green, but the bike violently moved to the center line and nearly crossed at the 330 marker and I had to get out of it and coast to the end of the track, I was very lucky to have solo pass otherwise I would have not made it to the finals.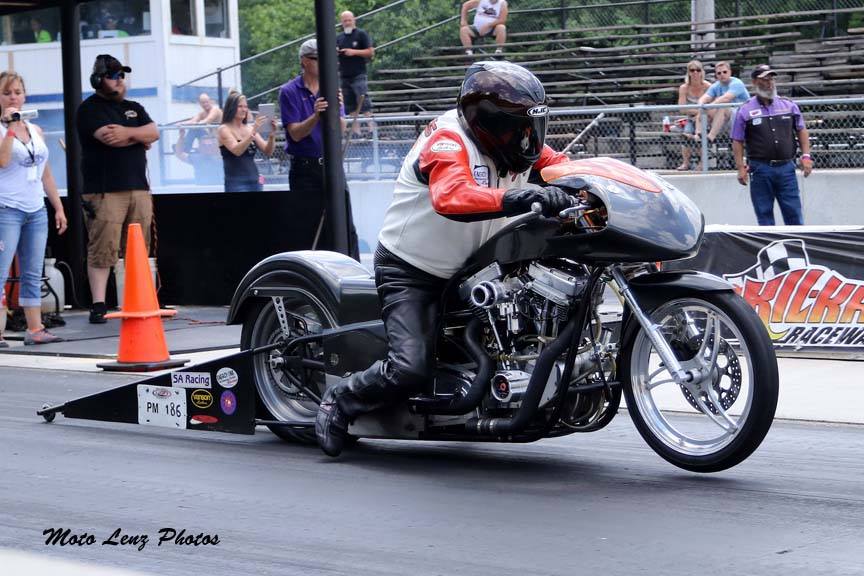 Now it was time to face Morry Straubel in the finals and bring our A game.  Morry had lane choice and put me back in the left lane that caused me to nearly cross the center line on the last pass.  But this time I found a good looking spot to line up on.  The tree dropped an immediately I knew this was going to be a good pass.  I cut an .009 light and ran low et of the event with an 8.49 at 152.5 giving me the win over Morry.  What more could I ask for!!!  Fantastic way to end the weekend, I have to think my sponsors, Walters Brothers Harley Davidson, Republic Heating and Cooling products, B&K Cylinder Heads, SA Racing, and Jay at MRE.  Also our class sponsors, White Knuckle Racing, Capone Racing, and Ryan Oehler Racing for their additional prize money.  I look forward to seeing everyone at Bowling Green next month and I really appreciate everyone's support.