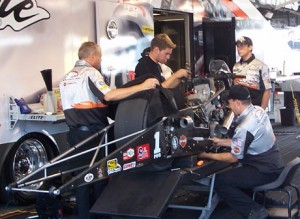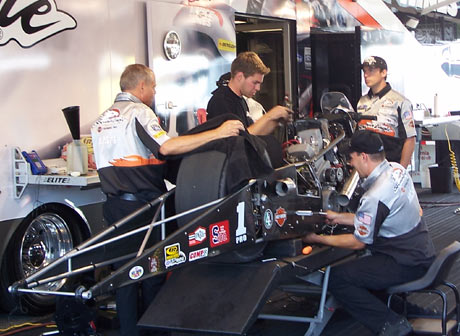 It all comes down to this. Screamin' Eagle/Vance & Hines Motorsports rider Andrew Hines has a 39-point lead going into the season finale NHRA POWERade event at the Auto Club Raceway in Pomona, Calif.
This one race will decide the championship.
The 24-year-old Southern California native has more than just a points advantage, however, going into the pressure-packed event. He's the three-time defending NHRA POWERade series champion, so he knows what it is like to battle for a title.
"Pomona is such a fun race track and the fans there are amazing," Hines said. "It's a huge venue and it's in my old stomping grounds of Southern California where I spent most of my young life. We have all of the employees of Vance & Hines Performance out at the track and there is always plenty of drama to keep everyone busy."
Hines was the runner-up at the Auto Club NHRA Finals in 2005 but has yet to earn a victory there. He's hoping he can take the first steps toward changing that when qualifying starts on Thursday.
"It seems like Pomona has never been boring for us," Hines said. "We had a chain come off the bike one year, we've had all kinds of things throw us for a loop there. But this season we're going in making sure we are 100 percent ready for anything. This is the one race that decides it all and we want to make sure we control our destiny. We don't want to leave it to anyone else."
Qualifying will take place Thursday and Friday at 1:30 p.m., continuing on Saturday at 11:30 a.m. and 2:30 p.m. Final eliminations start at 11 a.m. on Sunday.
"With one race left we have a 39-point lead and that's a great position to be in," Harley-Davidson Racing Manager Anne Paluso said. "The team has worked extremely hard to overcome some challenges this season and put us in a position to compete for the championship. The work paid off this weekend. It was a great race and we're proud of the way everyone performed under the pressure of battling for a record number of championships."
Screamin' Eagle teammate Eddie Krawiec is still searching for his first career NHRA victory. With his first full season of NHRA racing coming to a close, it's difficult to say what he's more anxious about: winning a race or visiting Pomona for the first time.
"I've always heard so much about Pomona and I'm excited that I finally get to go there and race there with a great V-Rod under me," Krawiec said. "Pomona is one of the birth places of drag racing. It's such a historical site for our sport, it's the home of NHRA and in general it just has a lot of meaning for drag racing. The season starts and finishes at Pomona because it's so special. I want to win that race."
Kraewiec's biggest threat to the event victory could come from inside his own pit area. After all, Hines has history to think about and a win would ensure the Screamin' Eagle team a championship.
Hines is tied with two other racers, older brother and current crew chief Matt Hines and Angelle Sampey, as the only riders in NHRA history to win three consecutive titles. If Hines can win the championship this year, he will be the first rider in NHRA history to win four consecutive crowns.
"It's nice knowing we have a little bit of a cushion in the point standings going into Pomona, but that won't change our goals of trying to win rounds and win the race," Hines said. "Almost any other time of year it's nice to have a week or two off after you win a race so you can savor the victory. But I'm very happy we race before the week is out. The team is focused and I'm excited about this Countdown to the Championship."
All the action at the Auto Club Finals can be seen on ESPN2 starting Saturday with one hour of coverage at 7 p.m. (ET), continuing with another hour of coverage at 11 p.m. (ET) later that evening. Eliminations will air on Sunday at 7 p.m. (ET).