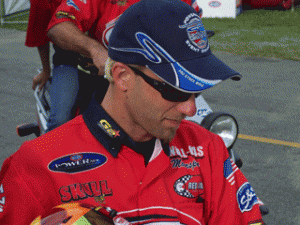 Matt Smith knew his chances of winning the POWERade Pro Stock Motorcycle Championship coming into Pomona were slim, but he didn't let that hold him back one bit. He went into race day swinging and came out on top.
Running well throughout qualifying, Smith overcame a lot of drama in the pits to put himself in the fourth qualifying position going into Sunday's eliminations.
Each round Smith had to face off against huge names in the field. Running Angie McBride first round, Countdown to one contender Peggy Llewlyn second round, Antron Brown in the semi's and title contender Chip Ellis in a winner takes all final.
Smith kept his cool throughout the day and rocketed past each contender every round. Cutting great lights and running incredible elapse times, it would soon come down to the last round of the season.
The 2007 Pro Stock Motorcycle Championship was on the line in the finals. Having to run former teammate and friend Chip Ellis, Smith knew either Chip or himself would be the Champ at the finish line.
Smith remained calm and knew it was now or never. He knew that the final round of the season was it and it was all up to him. Smith cut an incredible light, taking almost seven hundredths with him as they left the line, and as Smith crossed the finish line he realized he had just won the Championship. He had fulfilled his dream. He is the 2007 Champ.
"I don't even know what to say," said Smith. "This is the best day of my life. My guys have worked so hard, heck we all have and to have it come down to Chip and I in the finals was awesome. I can't believe it ended like this. I would have never in a million years thought I would be where I am right now. At the beginning of the year when we decided to go on our own, we were hoping to just finish in the top-10. I have got to thank Evan Knoll, Latrell Preston, Torco, holy cow thank you so much for giving me a chance. Red Line Oil, Mac Tools, SinFuel Choppers, Mark Stockseth, S&S, my dad, my family, my crew, the fans. Thank you so much for sticking with me. I am still in shock. This is the greatest day ever. Thank you NHRA and POWERade for allowing me to live my dream."