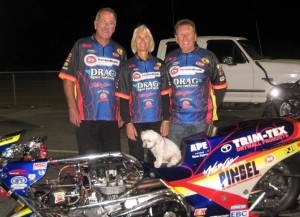 Top Fuel Motorcycle legend Larry "Spiderman" McBride had a consistent, dominant and victorious showing at The Manufacturers Cup from Valdosta, Ga., Nov. 9-11, to win the eleventh championship of his illustrious career.
"It means a lot to win another title for all my great sponsors. I represent the best and we wanted to win the title for them." said McBride, who considers this his 11th-and-a-half championship since he was leading the points when AMA Dragbike went out of business in 2010.
Despite how badly McBride wanted a new No. 1 plate to display in his Newport News, Va.-based shop, The Spiderman says the key to winning the championship was not to think about it.  McBride entered the event second in the point series, tied with Harley-racer Tommy Grimes, and 25 points behind Chris Hand.  Hand was unable to qualify and Grimes was ousted in the opening round, leaving McBride in control of his own destiny.
"I knew I just had to run my own race, and if it's (winning the championship) meant to happen, it will happen," McBride said. "That's how we have always approached it."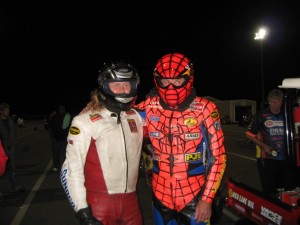 McBride fought through a challenging full field, which featured a fierce group of competitors from overseas, with a remarkably quick and consistent string of runs; 5.92, 5.90, 5.83, 6.02, 5.83 and a 5.82 to defeat Svien Olan Rolfstad in the final. McBride's only pass outside the five-second-zone was due to the team backing down the power in the first round of eliminations.
"You could not have asked for a better weekend for racing.  The weather was perfect, the track was great and there were over 800 entries.  The track personnel and all of the manufacturers did a great job putting on an awesome event," McBride said. "The group of racers from Europe were some of the best people I have ever met."
Throughout the weekend McBride initiated the newest member of his team, former Ron Webb crewman Steve Churchman.  The Spiderman also received some help selling T-shirts from his longtime friends and sponsors, Wayne and Donna Pingel.
"Donna did a great job selling shirts.  We just need to get her to work a little earlier," joked McBride.
McBride now prepares for a busy off-season where the team plans to put the finishing touches on a new motorcycle.  McBride will next appear at the PRI show in December.
McBride thanked sponsors; Pingel Enterprise, Trim-Tex Drywall Products, Drag Specialties-Parts Unlimited, Red Line Synthetic Oil Corporation, K&N Air Filters and Web-Cam as well as his other sponsors.
Vance & Hines Motorsports, PR Factory Store, Muzzys Performance, Ferrea Valves, Kibblewhite, Precision Machine, World Wide Bearings, Vanson Leathers, Performance Machine, Belt Drives Ltd, Street & Competition, Simpson Race Products, Nitrous Express, APE, EK Chain, Arias Pistons, R/D Spring Corp, Autolite, MSD, Protect ALL, Whipple Industries, Cometic Gaskets, B&J Transmission, Carolina Cycle, L.A. Sleeve, PJ1, Mickey Thompson Tires, Valco, Goodridge, Carlisle Belts and Gates Belts.