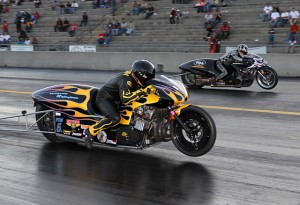 When a group of the finest manufacturers and service providers in the Pro Modified motorcycle racing industry set up the Pro Nitrous Quarter Mile Shootout at the Haltech Manufacturers Cup race at South Georgia Motorsports Park, no one really knew what kind of times the wildly popular nitrous dragbikes would run. When the ADRL took over the class a few years ago, riders were stuck clicking off their bikes at that organization's eighth-mile finish line.
Brand new ADRL champ and Driver of the Year Eric McKinney was the US quarter-mile record holder with a 6.55 at 202 mph and Arabian Drag Racing League record-holder Terry Schweigert won AMA Dragbike's last quarter mile Pro Mod race at Atlanta Dragway—but that was all years ago.
So everyone wondered—who would still know how to tune for the quarter mile, and who had the nerve to keep the throttle twisted all the way through the lights?
With a Big Dollar purse and big contingencies on the line, everyone would surely be pushing their old Suzuki GS motors to the limits. At the end of a stressful season, would these well-used cases even hold up? Well hold up they did. It's doubtful that even the most optimistic expected as clean of an event as was seen in Valdosta.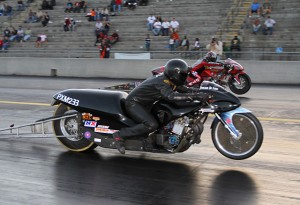 After setting the pace with a 6.46 in test & tune, McKinney struggled with tire issues in qualifying. So Maryland's Dave Norris paced five bikes in the 6.50s to lead Q1 on his DNR chassis. Scott Gray rose to the top with a 6.49 in Q2 and stayed there through the end of qualifying, leading a pack of three (including McKinney and #2 David Vantine) 6.40 bikes into eliminations. Gray also won the Xtreme Motorsports billet clutch cover give-away. "Turn 'em and burn 'em," was Gray's motto in Valdosta.
It was on raceday that McKinney and tuner Ashley Owens (also an ADRL champ and pilot of the world's first ever 3 second eighth mile bike on anything other than nitro) put their tire issues behind them. Eric's jaw-dropping 6.38 in round 1 propelled him into a second round showdown with MIRock champ Ronnie Procopio, who was unable to answer the 6.37 that McKinney laid down. Eric knocked yet another tenth off with a 6.36 at 204.9 mph over Monte Campbell in the semi.
That set up a final with veteran racer Shane Eperjesi, who advanced past redlighting Gray in round 2, on his old-school bodywork and headlight bike. Eperjesi was dipping into the mid .50s and racing smart, but that wouldn't be enough to stop the McKinney juggernaut. Despite "slowing" to a 6.38, McKinney took the $4000 win and $3000 in contingencies.
Eric's father Scott, a class sponsor and veteran bike owner, was beside himself with excitement and literally giggling over the performance by his son, the bike, and tuner Owens. See an interview Eric and Owens in this video:
Link: http://www.youtube.com/watch?v=rJlnXbiJWh0
Class sponsor Kevin Gilham of Lectron was stoked with the debut performances of two of his new products, including the 52-50 carbs on McKinney's bike. "These are very big carbs," laughed Gilham. "I worked with Rick Ward to make an extra big cylinder head to accept these carbs. I wasn't sure they would run them at this race, but they wanted to take advantage of these on the quarter mile."
In the eighth mile Pro Comp class, Ryan Schnitz led Q1 with a 4.09 sporting brand new Lectron EFI throttle bodies on his HTP Performance Hayabusa. HTP only received the new throttle bodies and fuel rail on Thursday before the race. "We have a couple of new generations of these coming out in 2013," promised Gilham.
Eperjesi wasn't too disappointed with the $2000 runner-up purse plus $1000 in contingencies he took home. "I thought the class was AWESOME!" said Shane. "I'd like to think Dan (Wagner of DTM Performance) for making all of this possible for all of us. Also want to thank the rest of the companies for the sponsorship, 'cause without ALL of y'all this would not have been possible.
"The performance of the class was unbelievable, with everyone running so close to each other. As far as my performance, I was really happy to run in the 50's. I struggled in qualifying with a bad tire, then final qualifying I thought I was done when my battery went bad and had a massive backfire. I am a low budget guy with one motor. I had to pull the motor Saturday night and repair it to make it up for first round, and I want to give a big thanks to Ed Grothus for staying up with me Saturday night to help me.
"When I won first round I knew I had Scott (Gray) second round and he was number 1 qualifier. I knew I had to be more aggressive with the tune-up but didn't want to beat myself by making a bad call. That was my lucky round when he went red. Then got a little more aggressive in the semi to run my career best of 6.56 to beat Rick Perry. For the finals I knew I could not out-run Eric so I just changed the tune up a little with the help of Joe and it worked for my career best of 6.53. I knew I had to get up on the tree against Eric and I had a .010 to his .008. I did all I could do and I was HAPPY!"
Eperjesi's excitement about the class was unanimous. "Returning to the quarter mile was awesome," said Vantine, who broke against Campbell in round 2. "Early in the weekend the turn off area was like Christmas morning. Everyone was wearing a huge grin as they took off their helmet waiting for the next pair to tell them how quick and fast they had gone, while they told the pair ahead of them their times. You'd say 'You went a .50' or 'You went 200' only to watch that person light up like a Christmas tree, do a fist pump and say 'YES!'  It was the most excited I've seen these guys in years, myself included."
"It's nice to see that most of the racers enjoyed it," said sponsor Ray Mancini of Xtreme Motorsports. "Thanks to everyone who helped make this happen."
"I find it amazing that these riders and their mechanics could re-tune
these bikes from eighth mile to quarter mile and hit the speeds and times they were hitting," said Eric Hochstetler of MTC Engineering. "It was exciting to watch."
"It's not much different tuning-wise, just longer," offered Procopio.
"Honestly, the quarter mile seems like an eternity after running the eighth," said Schweigert. "I was a little bummed I never ran a .40-something, that's crazy talk when you think about it. It was awesome having nitrous bikes running .40s and .30s—unbelievable! We had lots of fun breaking in tires and doing John Force burnouts, then running a .60-something on a brand new tire."
"I have heard nothing but good feedback from the racers and fans concerning the quarter mile Pro Nitrous class," concluded sponsor Walt Timblin. "I really think you haven't seen anything yet. Give these guys another race or two and I think things are going to really close up as far as ETs. What really shocked me most was the bikes didn't blow up as expected by several.
"I think this outing with the 1/4 mile opens up more race events to run Pro Mod bikes in, and I was and I'm happy to be a part of this class creation."
Timblin also announced that NX is jumping on board and sending three gift vouchers to give to the class. That adds to the cash, the free Mickey Thompson tires, contingencies, special class T-shirt and other swag that all a part of the Pro Nitrous Quarter Mile Shootout.
The sponsors who are made it all happen are:
Mickey Thompson http://www.mickeythompsontires.com/
Lectron Fuel Systems http://www.lectronfuelsystems.com/
MTC Engineering http://www.mtceng.com/
PMFR http://www.pmfronline.com/
Robinson Industries http://www.robinsonindustriesinc.com/
Timblin Chassis http://www.timblinchassis.com/
Vantine Imaging http://www.vantineimaging.com/home.html
Ward Performance http://www.wardperformance.com/
Worldwide Bearings   http://www.worldwidebearings.com/
Xtreme Motorsports http://xtreme-motorsports.com/
Falicon Crankshaft http://www.faliconcranks.com/
McKinney Motorsports
Innovative Performance
DTM Performance
Eatmyink Motorsport Media http://www.eatmyink.com/
This report was prepared by Tim Hailey. Enjoy everything there is to read, see and watch about motorcycle drag racing and more at http://www.eatmyink.com