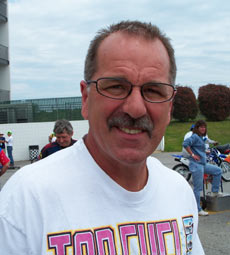 Top Fuel Motorcycle icon Larry "Spiderman" McBride is like a fine wine.  He just keeps getting better with age.
The 49-year-old eight-time AMA/Prostar champion scored his seventh win of the season and recorded a record speed of 246 mph at the National Finals from Gainesville Raceway in Gainesville, Fla, November 9-11.
Although the end result was typical, this event was far from ordinary for The Spiderman.  For the first time all season the team would be fielding more than one entry.  McBride's teammate and 2005 AMA/Prostar Top Fuel champion Jimmy "The Hulk" Brantley decided to enter the category for  the first time since last season's National Finals.               Larry McBride
Brantley had taken a hiatus from racing to concentrate all of his efforts on a multi-million dollar project for his company.
The reunion of McBride and Brantley in Gainesville got off to an inauspicious start when Brantley's motorcycle became stranded in North Carolina two days before the start of the event.
"We put Jimmy's bike and our golf cart inside my smaller trailer and I borrowed a 2008 Ford Super Duty F450 to tow it down behind us," McBride said. "Three hours from our home in Virginia the truck broke down.  Go figure.  A brand new truck? A local dealer told us it would take them quite some time to fix it so we had to hire someone to tow the trailer down for $2,000."
During the event Team Spiderman would also help debut longtime Funny Bike racer Tom Perry's brand new Top Fuel Kawasaki.  Larry and Steve McBride built most of the machine. The bike features a state-of-the-art PMFR chassis.
"In some ways it's a lot like like mine and in some ways it is a lot different than mine," McBride said of Perry's new ride.  "We built it but they changed a lot of the motor plates on it.  They also changed the crankshaft and the rear axle, so that makes everything react a little differently."
Brantley's bike eventually arrived safely at the famed North Central Florida launch pad in time for opening qualifying, which brought the total number of entries up to five – a category high for 2007. It was the best turnout since the 2006 National Finals when seven motorcycles entered Top Fuel competition.
For the eighth consecutive time this season McBride took the pole position.  This time he accomplished the feat with a blast of 5.94 at 234 mph.
"The track was awesome," McBride said.  "It was extremely good.  We had a great crowd of people, a great field and a really good track."
Brantley didn't fall far behind as he secured the No. 2 spot with an impressive run of 6.07 at 224 mph.
"Brantley did a great job for not having made a run all year.  He was a little out of practice and the bike was getting a little ahead of him," McBride said.  "Also we had some problems with his bike early on.  It kept smoking the tire and we couldn't figure out why. Still, we were pretty happy with the 6.07 considering all the issues we were facing."
Chris Hand made his first appearance at Gainesville Raceway since his near career ending top end crash in 2005, and qualified in the No. 3 spot with a respectable lap of 6.18 at 224 mph.
Tom Perry qualified in the No. 4 spot with a stunning run of 6.44 during his very first pass on his new machine.
"He had done a few burnouts but that was his first ever pass," McBride said.  "That bike has a lot of potential and so does he."
The plan was to try to test Perry's bike before the race but that never happened.  McBride was very impressed at the ex-Funny Bike racer's ability to adapt so quickly.
"We helped him the best we we could at a national event. Things get very busy. We worked with him but we didn't get to spend the amount of time we would have liked to," McBride said.  "Overall they did a very good job. Tom did a really good job riding it and controlling it."
Korry Hogan rounded out the field with an 11.34, making his first appearance at Gainesville since his 190 mph, eighth-mile crash last season, where he was forced to get off the bike when a spark plug broke and grounded through the handlebars.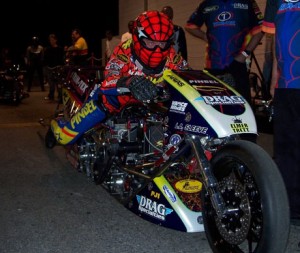 In opening eliminations McBride put an aggressive tune-up in the bike for his bye run which resulted in him running low elapsed time of the weekend at 5.87 and a record speed of 246 mph. The 246 mph surpassed McBride's     AMA/Prostar record of 245 mph, set in Valdosta, GA, in
March of 2006.  However, McBride would be unable to back up the 246 mph within one-percent to make it an official record.
Hogan appeared headed for a sure win when his first round opponent Brantley smoked the tire hard off the line. However Hogan contacted the foam block at the 330 foot mark and was disqualified. Chris Hand also advanced by defeating Tom Perry with a 6.34 to Perry's 19.42.
In the semis Brantley was awarded a bye run and McBride ousted Hand with a 5.94 at 236 mph to Hand's 6.25 at 218 mph.  Brantley's solo pass of 17.89 gave the team an opportunity to further diagnose the bike's problem.
"We figured something out right before the final and that's why he (Brantley) almost kicked my butt," McBride said. "It was a combination of a few things. We made a new barrel valve for Jimmy's bike and the exhaust temperature was getting too high. It was trying to leave with too much horsepower. We changed the clutch also.  We couldn't pinpoint the exact problem but we knew it was a combination of the clutch and the fuel."
The team's adjustment was clearly evident in the final as Brantley soared past McBride during the outset of the race.
"Jimmy was on a hell of a pass in the finals.  I cut a little bit of a light on him and then he drove around me like I was putting on the brakes. I went 3.91 to the eighth and he went 3.78," McBride said.
McBride cut a .160 reaction time, ran a 1.01 sixty-foot time, and clocked a 2.63 330. Brantley cut a .170 light, ran a 1.00 sixty-foot time, and moved past McBride with an impressive 2.57 330.  Brantley's eighth-mile mph was 202 mph compared to McBride's half-track speed of 197 mph.
It appeared Brantley was headed for a victory and quite possibly a record run in the 5.70-zone. That is until Brantley got out of the groove and was forced to let off the throttle on the top end. McBride got back around and was able to take the win with a 5.91 at 239 mph to Brantley's 6.13 at 175 mph.
"The bike got ahead of him again and he had to shut it off. He did the right thing," McBride said. "We can only wonder how quick it would have been. Think about it. I ended up going 5.91 at 239 mph and he was driving around me."
After the race McBride said Brantley has decided to take his bike off the market for now and dispelled any rumors that machine was headed for Australia after the event.
"It's definitely off the market.  We decided we don't want to sell it right now. Jimmy never really wanted to sell it.  The idea was for him to get rid of the bike so he could focus all of his energy into work, but now he loves racing again," McBride said. "There were some people from Australia that were interested but they never came through with any offer. In fact they never even came to look at it."
So does this mean the Hulk will run the full series in 2008?
"We're not sure yet. We'll just have to play it by ear and see what happens," McBride said.  "We'd love to have him back out here and he wants to come play."
A few days after the event McBride will fly to Las Vegas for the AMA Awards banquet, where he will be crowned with an unprecedented eighth AMA/Prostar Top Fuel championship.
"It's always a real good time  in Vegas. I'm going to take the whole family," McBride said. It really was an awesome season for us.  We had a great time."