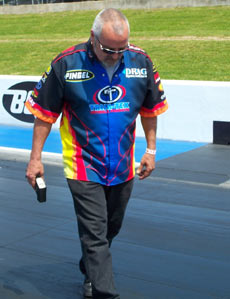 In 2007 Top Fuel Motorcycle icon Larry "Spiderman" McBride earned an unprecedented eighth AMA/Prostar championship.  One of the men responsible for The Spiderman's tremendous success is crew chief and brother Steve McBride.
Steve McBride has been making the tuning calls on his brother's race bikes long before the duo competed on asphalt.  The McBride brothers began their racing career over 25 years ago in the dirt.
At the 2007 AMA/Prostar National Finals from Gainesville, Fla, Steve was faced with perhaps his greatest challenge of the year.  Due to the return of team member Jimmy Brantley, Steve would be responsible for two motorcycles for the first time all season.
"It's always a bit challenging when you have that much work to do," McBride said.  "Especially considering it was the first time we had Brantley's bike out all season."
At the conclusion of qualifying McBride captured the pole position with a 5.94 at 234 mph and Brantley was No. 2 with a 6.07 at 224 mph, despite struggling to get the bike cleanly down the track during most of the day.
"Larry's bike was running really good but I just couldn't quite seem to get Brantley to quit smoking the tire," McBride said.  "The bike had plenty of power, we just couldn't get it to the track. I was making adjustments and nothing seemed to make a difference."
Brantley's woes continued on race day but after his first round opponent  Korry Hogan crossed the centerline Brantley scored a semifinal bye run.  During the bye he again smoked the tire.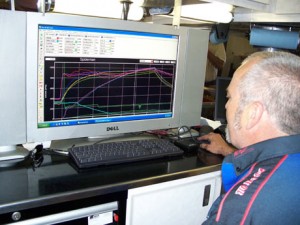 "We knew for the final we needed to make some wholesale changes on the Brantley's bike," McBride said. "I made a major fuel change, changed the clutch set-up, and installed a brand new set of clutch plates."
The change was clearly a step in the right direction for Brantley as he beat his teammate The Spiderman to the eighth-mile mark with a 3.78 at 202 mph to McBride's 3.91 at 197 mph.  Brantley eventually got out of the groove and was forced to abort the run.  McBride took the win with a 5.91 to Brantley's 6.13.
"Based on his early numbers I would calculate that run to have been a 5.77 at 250 mph if he could have stayed in the gas," McBride said.  "When we downloaded the information everything was perfect.  The driveshaft RPM was very smooth and the wheel speed was right on the money."
After the event the team stated that Brantley's motorcycle is no longer on the market and he intends to keep it for now.  Perhaps next season Brantley will be able to prove he's got 5.70-power by putting one up on the scoreboard.