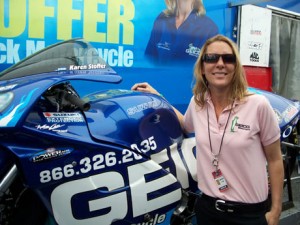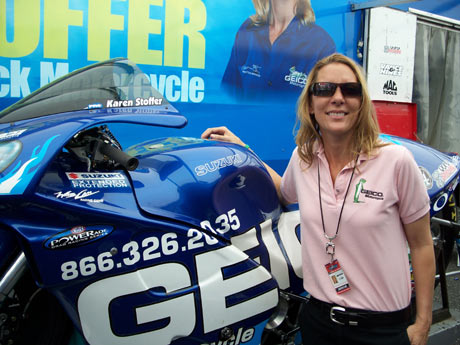 Karen Stoffer, rider of the Geico-backed Pro Stock Motorcycle, turned in a solid performance at the final NHRA race of the season in Pomona, Calif, to again finish in  the top ten in the hotly contested NHRA PowerAde point series.  2007 marks the fourth consecutive season Stoffer has finished tenth or better.
"It's always a great feeling to be in the top ten," Stoffer said.  "That is one of our goals at the beginning of the season.  The competition seems to get tougher and tougher each year, so to stay in the top ten is very fulfilling."
Stoffer began the season by winning two of the first three events, Gainesville and Atlanta, to capture the early-season point lead.
"Everything we've learned over the last three years really came through for us early in the year.  We understand a lot of the tracks now," Stoffer said.  "We were able to capitalize on some things. We learned a lot this year as well and we are hoping it carries through to next season."
Stoffer made the first cut for NHRA's new Championship Countdown when she was ranked in the No. 4 spot following the race in Reading, Pa. in mid-August.  After the Reading race  only competitors ranked in the top eight would advance to the next round of the countdown.
"It meant a lot for us to make it into the first countdown," Stoffer said.  "It was very exciting for our entire team."
Stoffer earned another career milestone at the US Nationals from Indianapolis, Ind, over Labor Day weekend, where she competed in her very first Ringer's Pro Bike Battle. Stoffer earned a berth into the elite eight-bike race based on points she earned in qualifying throughout the year.
Stoffer just missed the final cut for the Championship Countdown in Dallas in late September.  However the last two races of the season would still prove to be quite prosperous for her.  In Las Vegas Stoffer announced a three-year extension with her longtime marketing partner Geico and in Pomona Stoffer scored enough points to finish in the No. 8 spot.
"We wanted to go out on a high note this year," Stoffer said.  "We learned a lot about the new championship structure and we are very excited to take another shot at the title next season."