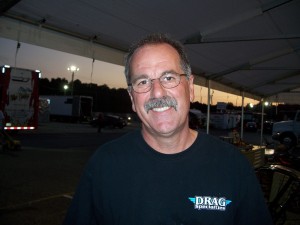 PINKS All Out has become one of the most popular televised spectacles in all of motorsports.  Combine PINKS with the superior showmanship of Bill Bader and his Summit Motorsports Park, and fans are treated to a tremendously entertaining event.
Now throw the world's quickest motorcycle into the mix, and fans are in for one of the year's best shows.
Even the Spiderman himself was blown away with the quality of entertainment at this weekend's, August 27-28, PINKS All Out from Norwalk, Ohio.
"It was one hell of a show.  Bill Bader knows how to put on an incredible event," McBride said. "They had everything.  I even watched a woman blow herself up with dynamite (she was unharmed)."
The 10-time Top Fuel champ put on his own fireworks display by dazzling Norwalk's huge crowd and PINKS creator, Rich Christensen, with a 6.05 at 219 mph.  The pass evoked a hearty round of cheers but was not one of McBride's all-time best numbers. McBride smoked the tire off the line and shut off the throttle 5.6 seconds into the run, right at the 1,000 foot mark.
"I decided to play it safe. The shutdown area at Norwalk has always been a little difficult for me.  You can't see over the hill, and it looks shorter than what it really is," McBride said.  "I didn't want to push it too hard and tear up a bunch of parts.  We weren't racing. We just wanted to put on a good show."
In McBride's second and final exhibition pass, he recorded a 6.06 at 229 mph.  This time McBride held the throttle open past the 1,000 foot mark, eventually shutting off 5.8 seconds into the run.
"The track was very hot and we didn't want to smoke the tire again, so we took some clutch out of it," McBride said. "It was a fun run."
McBride was happy to report his motorcycle ran strong on all four cylinders during both runs.  The Spiderman is hopeful that the team's lingering mechanical issue is a problem of the past.
After departing the PINKS event, McBride's weekend was far from over.
The Top Fuel legend received an invite from Paul Teutul Sr. and his Orange County Chopper Team to again ride the OCC's innovative electric drag bike.  Earlier this month, McBride had the opportunity to test the machine at Lebanon Valley Raceway in East Nassau, NY.  This time the OCC crew decided to meet McBride at Quaker City Raceway in Salem, Ohio in search of a new world record.
While on his way to eat dinner with Teutul and company, McBride reported he could not give any information on his runs at this time, but he admittedly had a huge grin on his face.
"I'm going to tell you what, I can do some burnouts from hell on that electric bike," said an enthusiastic McBride.  "I'm talking about all the way to the finish line."
McBride says there's more to come on this one-of-a-kind electric drag bike real soon.
The team thanked; Pingel Enterprise, Drag Specialties-Parts Unlimited, Red Line Synthetic Oil Corporation, K&N Air Filters and Web-Cam as well as his other sponsors.
Trim-Tex Drywall Products, Vance & Hines Motorsports, PR Factory Store, Muzzys Performance, Ferrea Valves, Kibblewhite, Precision Machine, World Wide Bearings, Vanson Leathers, Performance Machine, Belt Drives Ltd, Street & Competition, Simpson Race Products, Nitrous Express, APE, EK Chain, Arias Pistons, R/D Spring Corp, Autolite, MSD, Protect ALL, Whipple Industries, Cometic Gaskets, B&J Transmission, Carolina Cycle, L.A. Sleeve, PJ1, Mickey Thompson Tires, Valco, Goodridge, Carlisle Belts and Gates Belts.