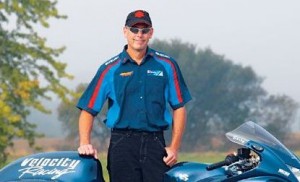 Prudent businessmen know when it's time to move on.  Experienced entrepreneur and Velocity Racing creator, Barry Henson, feels it's time to part with his beloved turbo and swingarm business.
"Selling Velocity wasn't an easy decision.  I'll always love the sport," Henson said. "I hope when things settle down I can come back and help my son (Sean Henson, 18). I want to give him every opportunity to win."
The current woeful economic climate wasn't Henson's primary reason for selling. For the last several years, Henson has maintained businesses apart from racing.  As of late Henson feels he can no longer devote the necessary time to Velocity to continue to make it a success.
"It was hard for me to keep innovating and creating," Henson said. "Velocity became my hobby."
Before establishing Velocity Racing in 2002, Henson was heavily immersed in his trucking business: Henson Transport.  As the economy wreaked havoc on the trucking industry in 2005, Henson Transport closed. It wasn't too long after that Henson became involved in a lucrative software company where he markets to stock traders via a program called Pro Trader Online.  Coming full circle, Henson now plans to re-enter the trucking industry by relocating to Knoxville, Tenn. and opening up the USA Truck Driving Academy.
"It's the right time to get back in.  I made great money in trucking and then I blew it all on racing," laughed Henson.  "I got an incredible deal on land in Knoxville, and the trucking business is really coming back strong. There are great opportunities out there right now.  People are begging for work."
Henson is certain that he leaves the Velocity operation in good hands.  Longtime partner Jason King of RPM Racing will take ownership of the company.
"Jason and I have been building and racing bikes since before Velocity started, and he's been a big part of the company.  He did all my machine work," Henson said.  "He's been around the tuning side of the sport, and he can manufacture all of the parts."
As a racer Henson exits Velocity having amassed two AMA championships and two MIROCK titles in the Pro Street category. His fondest racing memory is his victory at the 2004 AMA Prostar Pingel Thunder Nationals from Indianapolis, Ind. just months after a street bike crash severed his ankle and nearly ended his racing career.
"Mikey Slowe (Velocity Racing team rider) was on my Honda Blackbird and just getting his feet wet in Pro Street. He and I both made it to the final," Henson said. "By the end of the weekend, I won the race, ran the first 200 mph pass and ran the first pass in the 7.20s."
Henson also spent a brief stint in the NHRA aboard his Pro Stock Suzuki.  Henson still owns the machine, but it has quite different characteristics now.  Planning to compete in Funny Bike, Henson threw a Hayabusa motor and a turbo charger in the NHRA PSM chassis
"It's 580 horsepower," Henson said.  "It will fly.  I'd love to bring it out someday and see what it can do."
Henson says the abrupt closure of AMA Dragbike in late June wasn't a huge factor in his decision to sell Velocity.  Henson says he could sense the series crumbling months before.
"When I walked around at the AMA Atlanta race, I knew that series was done. I didn't go to another event after that.  I wanted out right then. I put my bike up for sale," Henson said. "It got to the point where AMA Dragbike no longer had a show, and there were some very bad business decisions being made."
Henson says the silver lining for dragbike fans is the potential for another series to take the sport to new heights.
"It will bring all the racers together under one roof.  Two organizations may have been too many in this economy," Henson said. "I'm very impressed with MIROCK.  Jason Miller (MIROCK official) has an insurgence to take that series to the next level. They have a great show."
Henson hopes the AMA closure will help MIROCK attract new sponsors giving the series the ability to market itself like never before.
For now, Henson hopes to make some money outside of racing so one day he can return and smash records like never before.