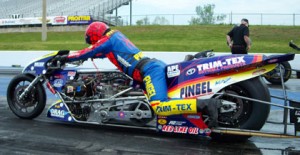 Larry 'Spiderman" McBride took home a pair of event victories in front of dozens of friends and family members at the AMA/Prostar Lucas Oil Spring Nationals/ MTC Elmer Trett Nationals from Petersburg, Va, April 28-29.
It wasn't the first time McBride pulled off the rare Top Fuel double-win.  Most recently he accomplished the feat in Memphis last season and St. Louis in 2004.  McBride says winning two races in a single weekend is always memorable and this one was the greatest yet.
"To do it in front of all my family and friends made it very special," McBride said. "It was awesome. I give a lot of credit to my brother and the entire crew for making the bike run so consistent."
On Saturday night McBride earned his first victory of the weekend by defeating Korry Hogan in an under-the-lights final from the rain-postponed MTC Elmer Trett Nationals in early April.  Hogan got out of the groove and was forced to shut off as McBride soared by with a blast of 6.11 at 236 mph.
"The best way for me to describe what it's like to race Top Fuel at night is to tell you to get on your motorcycle or drive your car down the interstate and close your eyes," McBride said. "It's a pretty scary deal at 236 mph.  You're not totally blind but boy, you're not far from it."
Earlier in the day McBride qualified on the pole for the Virginia race with a crowd pleasing 5.88 – a number that would stand as low elapsed time of the weekend.
"The bike just loves this track. To go 5.88 right out of the trailer is pretty amazing," said McBride, who set the world record at Virginia Motorsports Park with a 5.80 last season. "It could have actually been better.  It laid down a bit on top end."
In the Lucas Oil Nationals final on Sunday evening McBride was again pitted against second-year rider and former Funny Bike standout Hogan.  Priror to the showdown McBride and his team came to Hogan's rescue and loaned him a point box and helped fire up his motorcycle.
"We wanted to help the out.  Korry is a great guy and a great addition to this class," McBride said.  "Plus we wanted to give the fans a side-by-side show in the final.  We didn't want to win on a bye."
McBride garnered his second victory of the weekend with a 6.06 at 235 mph.  The pass immediately brought the McBride cheering section to its feet.
"It was an unforgettable weekend," McBride said.  "Races like this are the reason we continue to do this."
Next up for McBride will be the AMA/Prostar Schnitz Memphis Blues Nationals from Memphis Motorsports Park, June 8-9.