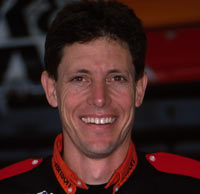 Not only is Steve Johnson the most experienced rider in the NHRA Pro Stock Motorcycle class, he also represents the category in an organization entitled Pro2. In this article Johnson converses on the drastic changes the class has undergone and where the sport is headed.
NHRA Pro Stock Motorcycle racer and representative Steve Johnson has noticed sweeping changes in the category since he first began competing in 1987. The biggest difference, Johnson believes, is the amount of money it takes to field a successful team.
"In the 80s we used to all laugh about a million dollars. Who would ever need a million dollars to go racing? I don't think you need a million dollars to go Pro Stock Motorcycle racing today, but it's getting close," Johnson said. "You better have at least five or six hundred thousand.  You need every bit of that."
With the increased number of talented crew chiefs, engine builders, and riders in the class, Johnson, the most seasoned of all active Pro Stock riders, recognizes that a major sponsor is essential.
However money isn't everything. Johnson admits tremendous financial resources still aren't enough to guarantee victory.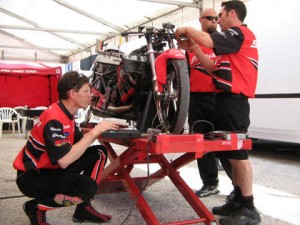 "Money doesn't necessarily get you anywhere. Just qualifying at these races is difficult. You need a lot of support, a lot of brainpower, and a lot of guys that are committed," Johnson said. "Back in the old days you made your run, leaned your bike on the pipe, changed your clothes and went up to the Winston suite to eat shrimp cocktail and meet sponsors. Now it's in an era where if you don't have a specialist in every area you don't have a good team.  The era of the Dave Schultz "I'm gonna do it all" is long gone."
Despite the enlarged budgets and the presence of major sponsors in the class like Geico, Snap-On, and Drag Specialties, Johnson says very few individuals are getting rich and it's still a labor of love for most.
"At the end of the day it's not all about money," Johnson said. "There are individuals in this world who make a million dollars in a year, no problem.  Obviously when you have a half-million dollar budget for an entire race team nobody is going to make a million dollars.  You have to do it for the passion."
Over the last few years there has been a lot of debate over the rule changes in the class to level the playing field for the four-cylinder and two-cylinder machines.  Johnson says the conflict isn't necessarily a bad thing.
"There are some tempers and some issues but at the end of the day this is all about entertainment.  We all race but NHRA is here to put on an entertainment venue – the best show they can for the fans," Johnson said. "A lot of times it's not all about the racing, it's about the personalities.  NASCAR had some great fist fights back in the day and the fan base chased and chased and look where they are now. Obviously it's not all about fighting, it's about good racing too, but I think there is a certain amount of professional wrestling that needs to be involved in everything. And I think when we all realize it we'll be better off."
Not only is the class more competitive than ever, but Johnson also believes the fan base and the following of the category has reached new heights.
"We're going to 16 races this year for the first time. Every single race track has expressed an interest in the motorcycles.  NHRA sees it. It really adds credibility to us as professional racers," Johnson said.  "So from the NHRA, to the track owners, to the sponsors, to the OEMs the class is better than it has ever been. I think corporate America sees us. You see a lot of big names on these rigs out here."
Johnson hopes to see all of the major motorcycle manufactures represented in the class before long.
"It would be great for every OEM to have a chance to pick a body style and a motor to promote," Johnson said. "It's going to go a long way to pushing the sport into another stratosphere."
For 2007 Johnson's main goal for Pro2 is to make sure the riders are as protected as possible.
"My hot and heavy issue in Pro2 right now is safety.  I don't feel we do enough. We've lost some good guys in our sport on avoidable things," Johnson said.  "All the days and minutes, years and weeks, we spend working on these motorcycles I'd like to allocate one day to have the smartest guys look at the motorcycles and determine if this is really the safest stuff.  There are some issues with brake rotors, wheels, tires, wheelie bars, and frames, and I just want to stay ahead of the curve on all that."