It is not guaranteed yet that either Andrew Hines or Eddie Krawiec from the Screamin' Eagle Vance and Hines Harley-Davidson team will win the Pro Stock Motorcycle world championship in 2014. But with a sizeable lead over the nearest contender and a combined 10 wins between the pair, it appears likely that Krawiec and Hines' return to form is nearly complete. The only question might be which one of the teammates will claim the championship and Krawiec has his ideal scenario of how it will happen.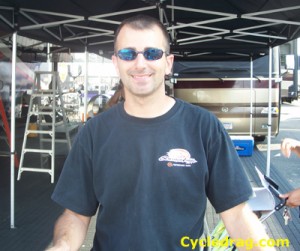 "Hopefully it all goes down to the wire and it's decided in the final round in Pomona," Krawiec said. "It would be awesome for it to come down to winning that final race. We're both competitive people and we both want to win it. Hopefully the Harleys are going to be first and second. That would be a nice way to recoup."
Before that final race in the NHRA Mello Yello Drag Racing Series Countdown to the Championship, Krawiec will try to close in on Hines at this weekend's 14th annual NHRA Toyota Nationals at The Strip at Las Vegas Motor Speedway. It is the penultimate race of the 2014 season and Krawiec currently trails Hines by just 25 points heading into what will be a thrilling final stretch between the two teammates, who have a combined six world championships.
Hector Arana Jr. is 168 points behind Hines in third. Krawiec won the last title between the teammates in 2012 but the team struggled mightily a year ago as Hines failed to make the Countdown to the Championship and Krawiec posted just two wins in all of 2013.
Through some impressive work in the off-season and throughout the 2014 campaign both Krawiec and Hines are back in a familiar position.
"This is our full-time job and we take it seriously," Krawiec said. "We're expected to win by our sponsors, our partners and everyone that helps us with our program. We expect results and there wasn't one person happy with the results from last year. When we were not winning we had to find ways to bring program to the next level. Everybody just wanted to make the bikes perform this year. Everyone pitched in and when you have everyone behind you like that it makes it easier."
The success has been evident for Krawiec. Coming off a victory at the most recent event in Reading, Krawiec, who has 27 career victories, has picked up wins in four of the past six events, including two in the Countdown.
But knowing what Hines is capable of, Krawiec thinks another win might be necessary this weekend in Las Vegas if he wants to have a chance at the world championship.
"The way I look at it, I have to come out of Vegas with an event win," Krawiec said. "That's the only way you can ensure a chance at the championship in Pomona and that's the way I look at it. My goal is to win every race and I'm certainly not going to change it now. It's probably going to be a very fast event and my bike tends to run well in those conditions. I'm looking forward to these final two races."
Krawiec did downplay any momentum he might have from winning in Reading earlier this month. Conditions will be different in Las Vegas and Krawiec will continue to contend with a talented Countdown field that includes Hines, Arana Jr., reigning world champion Matt Smith, Steve Johnson, Angie Smith, Scotty Pollacheck, John Hall, Hector Arana Sr. and Michael Ray.
"You have to treat every race the same, momentum or not," Krawiec said. "I'll go in with the same mindset but I don't get hung up on the way the last race went. I try to treat every race as a new beginning."
Mello Yello Drag Racing Series qualifying begins Friday, Oct. 31, with sessions at 1 and 4 p.m. The final two qualifying sessions will take place Saturday, Nov. 1, at 1 and 4 p.m. Final eliminations are scheduled for 11 a.m. on Sunday, Nov. 2. To purchase general-admission or reserved seats, call The Strip at Las Vegas Motor Speedway at 800- 644-4444 or visit www.LVMS.com. Story courtesy of NHRA.com